By Katherine Michaud Smith, Creative Services Program Manager, Goodwill Industries International
Last month, Jeremiah Robinson, a career development facilitator with Goodwill Industries- Manasota's Veterans Services Program, was presented with a "Hero of the Month" award for his service to his local veteran population. Janine Morris, realtor associate with Fine Properties, and Roger McGuire, branch manager with Success Mortgage Partners, Inc., visited the local Goodwill to present the award.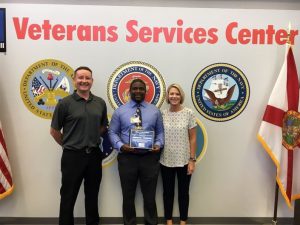 When they return from duty, military service members face many challenges when they attempt to integrate into civilian life. These may include physical disabilities, mental health disorders, and difficulty translating active-duty service into marketable job experience, among others.
Although he worked hard to make his way in the civilian workforce and obtain a marketable education, Robinson also faced such issues, even becoming homeless for a period of time following his service as a U.S. Marine. He did not let that experience stop him from rebuilding his life and becoming an advocate for others.
"Even though I suffer from anxiety and depression due to PTSD, I try to continue my fight to help others who are willing to give it a second go-round because life is not fair," Robinson said. "I lost a couple of buddies when I was in the service and out of the service — it has made things difficult yet it gives me a reason to fight harder for myself and other veterans."
Having worked for Goodwill for just over a year, Robinson has long been driven to help veterans improve their circumstances and make their way in the civilian world. Before coming to Goodwill, he served as a benefits counselor at University of South Florida, where he helped more than 200 student veterans obtain benefits and advocated for improvements for the student veteran population.
In his current role, Robinson is responsible for intake, referral to service providers and case management for veterans in his community. He also conducts outreach to other local veterans' organizations, connecting veterans to necessary supports, and assists with updating the Goodwill Manasota Veterans Resource Guide, a resource for helping veterans access supports in their community, including housing, food, VA benefits and child care.
This Veterans Day, Goodwill extends its sincere gratitude and congratulations to Robinson and all those who have served.
If you know a veteran or military family member who could use Goodwill's support, share Robinson's story and connect them with their local Goodwill.
Learn about the robust services offered at Goodwill Manasota.