A partnership between home improvement retailer Lowe's and Goodwill Industries of Middle Tennessee is equipping people more effectively with the skills needed for rewarding careers in the construction industry.
With funding through the partnership, the Nashville-based Goodwill has purchased tools, lumber and other items to expand hands-on learning in its Construction and Weatherization Training Program. The Goodwill has also purchased cameras and other video equipment necessary to provide online instruction.
"Because of COVID-19, we have had to restrict our class size to allow for social distancing, but thanks to Lowe's, we are primed for growth once the pandemic winds down," said class instructor Tim Kahn. "The construction industry remains strong in Middle Tennessee, and those companies need skilled workers. Goodwill is giving people the knowledge and experience to succeed in those jobs and earn a good income for their families."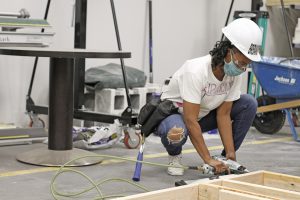 Goodwill's Construction and Weatherization Training Program, which often has a waiting list, has averaged about 75 participants per year since it started a decade ago. Kahn predicts that the added equipment and online instruction made possible through the partnership will enable Goodwill to serve 120 students in 2021 — a 60 percent increase.
The program is housed in Goodwill's warehouse on Cockrill Bend Boulevard in West Nashville. Students attend classes five days a week for four weeks, learning the names and uses of most construction tools, how to stay safe on a job site, how to properly measure materials for projects and more. Students receive a stipend of $100 per week.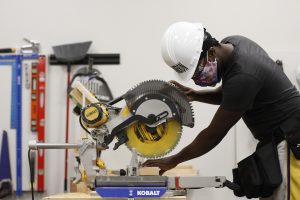 Upon completion of the course — which covers safety, construction math, hand and power tools, blueprints, rigging, material handling, weatherization, communication, forklift operation, and employability skills — students receive certification from the National Center for Construction, Education and Research (NCCER) and also obtain their OSHA 10 in Construction safety card.
Time is split evenly between instruction in the classroom and workshops. Classroom lessons are now augmented with online homework, using videos shot and produced with equipment from the Lowe's + Goodwill partnership. Online videos also enable the enrollment of students who cannot regularly commute to Nashville, although those students need to attend class in person for at least one day before they can graduate.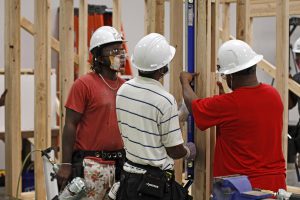 New equipment and materials purchased as a result of the partnership, such as nail guns, drills, levels, screws, lumber and plumbing supplies, are allowing students to gain more experience practicing — rather than observing —  their new craft.
Students also learn about budgeting, the loan process and how to improve their credit scores. The financial overview is helpful, because as many as eight out of 10 students are struggling to find work and support themselves or their families when they sign up for the program. Many face challenges such as a history of incarceration, a language barrier or a skills gap.
After graduating from Goodwill's Construction and Weatherization Training Program, students receive job placement assistance from Goodwill. Of the 86 students who completed the program in 2019, 77 percent found a job in construction upon graduation.
One recent example of student success is Lateasha Davis of Nashville, who before completing the construction program in 2018 had felt stuck in her job as a hotel housekeeping supervisor and lacked permanent housing for herself and her four children. After graduating from the program, Davis was hired by Messer Construction, and her new pay rate allowed her family to move into a home. Davis has since launched her own cleaning and repair business.
More information on Goodwill of Middle Tennessee's Construction and Weatherization Training Program can be obtained calling 1(800) 545-9231.