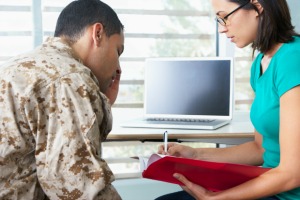 Goodwill Easter Seals Miami Valley (OH) is dedicating a new program to the meaningful, long-term employment of veterans in the Miami Valley. The Veterans and Employers Connection is a community partnership led by the Goodwill intended to meets the needs of veterans and employers in the area by coordinating a broad range of resources available to them. 
Anyone who has worn the uniform of the United States military including National Guard members, Reservists, and those in process of transitioning from active duty is eligible to participate. The Goodwill has seen a variety of interested participants from post-Vietnam to post-9/11 veterans.
Col. Daniel M. Semsel, USAF, (Retired), has been hired as program manager to lead the Connection program.   After a 25-year military career and five deployments, Semsel manages the program that helps veterans successfully transition into the civilian workforce. 
"Ensuring smooth transitions from military service to the civilian sector for our veterans is of utmost importance," said Col. Cassie Barlow, former commander of the nearby 88th Air Base Wing. "We appreciate all of the wonderful community partners across the Miami Valley region that are helping our veterans make the next step in their lives. When companies hire a veteran, they are receiving an educated, motivated, employee that will make their organization a better place."
The Veterans and Employers Connection program will coordinate with local employers, support services and community organizations to provide a complete approach toward meeting the employment and personal support needs of local veterans. 
For more information, visit the website at
http://vetsemployerconnect.org/
.