By Katherine Michaud Smith, Creative Services Program Manager, Goodwill Industries International
When a young woman learns she's going to become a mother for the first time, the prospect can be intimidating. She may wonder how she will care for her little one, what choices will be the best for her new family, and how she will keep her child happy, healthy and safe.
In Indiana, these questions might be coupled with the worry that she may never hold her child or will lose that baby too soon. That is because the infant mortality rate, while it has gone down in recent years, is still alarmingly high for the Hoosier state, according to the Indiana State Department of Health. Some new moms are terrified by that information and don't know what to do to help protect their babies.
For these reasons, Goodwill of Central & Southern Indiana (Indianapolis) and Goodwill of Michiana (South Bend) each implemented Nurse-Family Partnership, a national, evidence-based maternal-child health program that pairs first-time, low-income moms with a nurse home visitors for ongoing support through their pregnancies and the first two years of their babies' lives.
Lynn Baldwin, Goodwill of Central & Southern Indiana's director of operations for the program, explains that the partnership aims to improve pregnancy outcomes, child health development and self-sufficiency for families.
"The greatest benefit of Nurse-Family Partnership is a free, personal nurse for each family," she said. "Motherhood is not easy. It doesn't come with an instruction manual. And to be able to have a nurse that you can reach out to, to contact when you're having issues, [like] the baby won't stop crying… they can help with those things."
One young woman who is taking full advantage of this service is Tracy Washington, a 22-year-old mother to 10-month-old AJ. "I really felt like I wasn't enough and, my nurse, she made me feel like I was," Washington explained tearfully. "She told me, 'You are enough.'"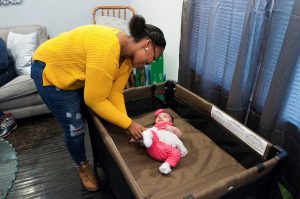 A large aim of the program is to reduce the risk of sudden infant death syndrome (SIDS) by teaching safe sleep principles to families.
Laketta Booker, new mom to 2-month-old Zhorri, says her nurse helped build her confidence. "You just learn so much before you have your baby, I felt so prepared. I feel like I can do anything now," she explained.
During her meetings with her nurse, Ketta Mason, Booker and other family members who would care for Zhorri learned how to reduce the risk for SIDS.
"If we can in any way reduce that (infant mortality), even if it's just by two, that's two lives. I mean, that's huge," said Mason. "So, it's very important that we're able to do this in this county where we have such a high rate of infant mortality."
In addition to receiving the advice and information women need to have healthy babies and be great moms, families also receive case management support to help them with housing, education, employment, childcare and more.
Expectant mothers in Indiana can visit the Nurse-Family Partnership website to see if they qualify for a free nurse home visitor.