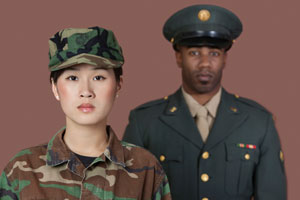 Goodwill Industries of Central Oklahoma (Oklahoma City) received a $1.4 million grant from the U.S. Department of Veterans Affairs to provide supportive services to veteran families with very low incomes.
"It's never been okay for a veteran to be homeless," said Lenny Vile, homeless program coordinator for the Oklahoma City Veterans Affairs Office. "[Veterans] have taken up the call of duty, regardless of what job they did in the military. They volunteered and made sacrifices for all of us."
Under the Supportive Services for Veteran Families program, the Goodwill will join forces with six other organizations that serve veterans to provide the following services designed to promote stability:
Housing counseling and search
Vocational training and employment services
Personal financial planning services
Transportation services
Income support services
Fiduciary and payee services
Legal services
"Veterans have specific needs due to disabilities and conditions that are directly related to their service in the military," said City Rescue Mission Systems Services Coordinator Shelly Sheaffer. "This [grant] will streamline access, improving and increasing the number of people we can serve."
The program expects to serve nearly 500 families in its first year. During that first year, it will be available to veterans in Oklahoma County, but the Goodwill intends to apply for a two-year renewal, enabling it to expand into surrounding counties.
"Collaboration is key to solving complex challenges. This grant presents a remarkable opportunity to not only connect, but maximize, local and national resources and expertise to improve the lives of veterans," said Oklahoma Goodwill's Director of Development and Corporate Compliance Sarah Steffes.