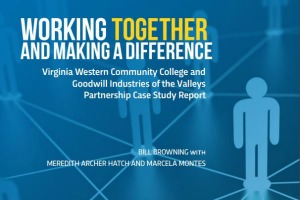 The Aspen Institute's Workforce Strategies Initiatives (AspenWSI) and Achieving the Dream recently released a new case study, titled"Working Together, Making a Difference", which highlights the partnership between Goodwill Industries of the Valleys (Roanoke) and Virginia Western Community College. The partnership is part of the Courses to Employment project.
The study explores outcomes how Goodwill® and Virginia Western were able to co-locate community college classrooms on the Goodwill Jobs Campus. Goodwill was then able to provide support services such as employment readiness and job placement services to individuals enrolled in the technology and advanced manufacturing trainings.
Courses to Employment looks at how community-based organizations, such as Goodwill, are working to improve opportunities and outcomes for low-income individuals. It focuses specifically on how these organizations are increasingly partnering with local community colleges to improve pathways into and through post-secondary training and education, and then on to quality jobs. AspenWSI's research highlights the role these partnerships play in addressing special supports low-income adults need to succeed in education linked to employment.
In the report, AspenWSI states, "The story of the Roanoke effort offers a fresh perspective and valuable lesson for community college and nonprofit workforce leaders who are interested in launching or improving partnership strategies." Dr. Robert Sandel, President of Virginia Western also remarks in the report, "It's a textbook case of working together without any type of hesitancy, not worrying about who gets the credit, just worrying about how we make a difference in peoples' lives."
"We believe the Aspen Institutes Case Study is a wonderful tribute to the success of the partnership between Goodwill and Virginia Western," states Bruce Phipps, president and CEO of the Roanoke Goodwill. "That success is measured by the lives that Goodwill and Virginia Western have been able to impact through the programs and supports that are offered to individuals participating in the programs." The target audience for the report includes community college and workforce development leaders along with other professionals that interact with low- and moderate-income workers.