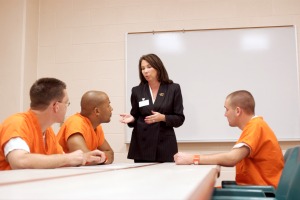 Goodwill of the Olympics & Rainier Region (Tacoma, WA) is piloting an innovative program called Inside Out for offenders trapped in a cycle of dependence within our prison systems. The program offers solutions and a second chance to many in need who end up in prison, returning to the streets only to seek re-incarceration as their only option.
Since the pilot launched with classes in January 2014, 20 candidates have received job training, personal development and career planning towards becoming productive citizens and family members in the region.  Of those participating, 11 have completed classes/incarceration and have been placed into jobs.  In the six months since program participants were placed in quality jobs, 100 percent are still employed.
Inside Out focuses on those who are employed, while incarcerated, by Correctional Industries, and will be eventually released to Pierce or Thurston County.  Correctional Industries employs inmates based on behavior record, motivation and willingness to work, and other employability measures.  Because Correctional Industries provides Workforce Development services during incarceration that end with release, our program is designed to bridge the gap – by expanding programming prior to release, then bridging to provide support during release and transition into the community.
Cohorts of inmates receive a curriculum while still incarcerated and work with a team of staff (Correctional Industries Workforce Development staff, Goodwill workforce development staff, and volunteers from other members of the Community Partners for Transition Services) to plan for and prepare for successful transition to the community.  Goodwill staff provides financial education, vocational assessment and counseling, resume development, mock interviewing, and other services to each group.
The Goodwill staff is currently operating with the Cedar Creek Corrections Center while also working with Correctional Industries workforce development specialists at distant prisons in Washington State to provide our services via distance learning.  The area of focus will remain on individuals who will be released to Pierce and Thurston counties, but distance learning will allow the agency to reach larger numbers of our local population who may be incarcerated in other counties.
The goal of the pilot is to quantify the impact of transitional services provided, with the goal of helping former inmates to gain long term, living wage employment. Typically, work release and regular release ex-offenders obtain minimum wage jobs, and end up leaving the job when inevitable life complications happen.  Our program helps ex-offenders obtain higher paying jobs, and then helps them keep the jobs by continuing to offer support and coaching. The goals are long-term employment, keeping ex-offenders off of public assistance (self-sufficiency) and reduction in recidivism.