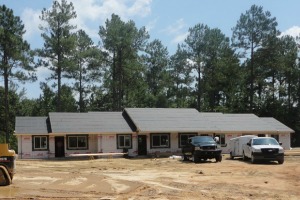 On December 17, Goodwill Industries- Big Bend (Tallahassee) celebrated the opening of its 12th apartment complex for people with disabilities, with a ribbon cutting and community event. The new complex will house individuals with low incomes, as well as those with disabilities throughout the nearby city of Chipley.
GIBB Chipley Village is a multifamily, 15-unit housing complex, offering ten, one-bedroom units and four, two-bedroom units. Construction began in May 2014, and tenants began moving in early this month. The apartments will offer a small, safe community, where renters have access to health, social and vocational resources, and a live-in manager, that will be available for assistance at all times.
Incorporating green building standards, energy efficient components and universal design, all apartments are made to be accessible for people with physical disabilities. Some of the amenities include roll-in showers, widened doorways, lowered cabinets, countertops and sinks.
"We feel very privileged to be able to provide people with barriers the opportunity to live independently in safe, affordable homes," says President and CEO Fred Shelfer. "We'd like to thank all of our donors and shoppers for supporting Goodwill."
The Tallahassee Goodwill already provides homes for over 400 people in the Big Bend area. To be eligible, applicants must have a disability, and a very low income.  Rent will be subsidized and all tenants receive help with utility payments.