Several Goodwill® agencies are celebrating major milestones anniversaries this year. Below, learn more about how some of the agencies plan to observe the anniversary of their founding.
100 Years
The first Goodwill in New York was founded in Brooklyn, NY, on February 13, 1915. The Brooklyn Goodwill merged with Manhattan Goodwill in 1962 and with Northern New Jersey Goodwill in 1999 to form Goodwill Industries of Greater New York and Northern New Jersey. According to documents and newspaper articles, Goodwill's beginnings in Brooklyn were such a success that the nationwide movement got its name from the Goodwill in New York.
Today, with headquarters in Astoria, Queens, the agency serves 95,000 persons throughout the metropolitan area and places more than 8,500 in jobs annually. To celebrate the landmark, the Goodwill produced a video of the many people who work at the agency and showed a 30-second version  in selected NY metropolitan area movie theaters for a whole month starting on the Goodwill's birthday.
This month, Goodwill employees, partners, funders, vendors and other individuals and organizations that have helped Goodwill NYNJ achieve success in the past 100 years joined together to celebrate "Goodwill Day" at CitiField. Mayor Bill de Blasio also attended to read his proclamation of "Goodwill NYNJ Centennial Day."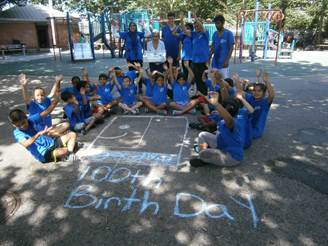 90 Years
Goodwill Industries of the Pioneer Valley (Springfield, MA) began in 1925 and was one of the first Goodwill agencies to be created outside of Boston. Over its long history, the agency has assisted more than 15,000 people with disabilities in accessing employment and work training. The Goodwill also helped more than 1,900 individuals remain in private homes through its adult foster care program. In October, a gala will take place at the Basketball Hall of Fame.
In 1998 Goodwill of Atlanta merged with Vocational Transitions to become Goodwill Industries of North Georgia (Atlanta). The merger made a huge impact in the number of job seekers the nonprofit placed, jumping from 108 people placed in 1995 to 2,483 people placed in 2005. This year, the Atlanta Goodwill is encouraging supporters to use their timeline to explore the agency's 90-year history as shaped by stories from the community and to then share a Goodwill story . A book was also created to document the Goodwill's rich history.
80 Years
Originally known as the Bethel Goodwill Industries, Goodwill of Northeast Ohio and Northwest Pennsylvania (Ashtabula) has made great strides since its establishment in 1935. The agency has grown from seven employees to more than 100 in recent years.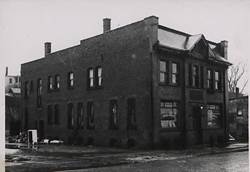 On June 3, Goodwill of Greater Washington (DC) celebrated its 80th anniversary surrounded by more than 150 close partners, employers, funders and volunteers whose collective impact have transformed the lives of more than 50,000 people throughout the agency's history. A special anniversary logo and collateral materials were also created.  For more information, check out the commemorative timeline that is currently displayed on the DC Goodwill's website.
70 Years
More than 350 guests joined Goodwill Industries of Houston (TX) for a "1945 Victory Party" on May 2 to celebrate the organization's 70th anniversary. Guests dressed in their best 1940s finery, danced to live music, enjoyed an elegant seated dinner and bid on auction items. This year's gala was the most successful to date, raising more than $289,000. Earlier this year, ABC-13 aired "Bundles of Hope" which documents the agency's history.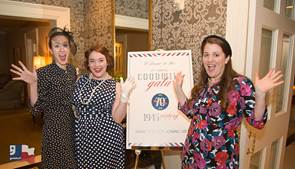 50 Years
Goodwill Industries of the Coastal Empire (Savannah) was incorporated on April 25, 1965, from a modest beginning, operating on $60,000 a year, in a borrowed building with eight employees. The Goodwill has grown in to a multi-million dollar operation with over 850 employees in locations throughout the Coastal Empire. Special activities are being planned for later this year.
Beginning with just one store, Goodwill Industries of the Southern Piedmont (Charlotte) is now operating a $40-plus million donated goods, retail business with 22 stores currently in operation. Growing from just six individuals placed in jobs in 1965 to more than 1,100 in 2014, the agency is now the region's largest provider of training services for people with challenges to employment. The training programs that began in 1986 have more than 3,000 graduates with thriving careers in the technology sector, hospitality industry, construction and the field of banking. The Goodwill has received more than 23 million donor visits since its founding.
In October 1965, Goodwill of Northern Wisconsin and Upper Michigan (Marinette) began with one vocational work center and one retail location in Marinette/Menominee. Today, the agency operates three vocational work centers, seven retail stores and donation centers, and provides vocational placement services throughout upper Michigan and northern Wisconsin.
Goodwill of the Heartland (Iowa City) hosted a special event, The Edgars Achievement Awards, in honor of the agency's anniversary. The event name, The Edgars, honors national Goodwill founder Edgar J. Helms. Helms grew up in Iowa and graduated from Cornell College in Mount Vernon. His grandson, Dr. Charles Helms, currently serves on the local board of directors. The Goodwill also produced "Touching Stories, Touching Lives" to commemorate the occasion.