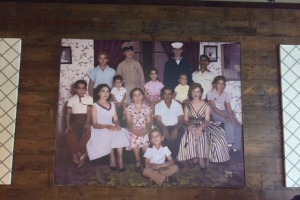 Earlier this month, Goodwill San Antonio (TX) and it's community partner Starbucks celebrated Veterans Day by unveiling a mural by acclaimed artist Jesse Treviño, a veteran who painted the mural to honor the men and women who have served in the United States military.
Commissioned by Starbucks last year, the public artwork is displayed at the Starbucks Military Community Store located in the Westover Hills area.
"This inspiring work of art has been anxiously anticipated," said Gail Ribalta, senior vice president of marketing at Goodwill San Antonio. "Mr. Treviño's artwork reminds all of us to honor our veterans for their service and sacrifice, and to remember that they are an integral part of our community family. We are thankful and proud that a portion of the purchases at this Starbucks location helps veterans to transition to the civilian workforce through the Goodwill Veterans outreach programs."
A Vietnam War veteran, Treviño has spent his life honoring the city he loves through the creation of breathtaking images that reflect the culture and people of his native San Antonio. His murals can be found on hospitals, parks and other public and private locations across the Alamo City, such as on the Goodwill's headquarters.
The San Antonio Starbucks Military Community Store employs seven partners (employees) who are military spouses, active duty reservists or veterans. Ten cents of every transaction supports Goodwill San Antonio's Veterans Resource and Career Center.
The nearly 2-year partnership between Starbucks and the San Antonio Goodwill is part of Starbucks military hiring initiative to employ at least 10,000 veterans and military spouses nationwide by the end of 2018. Starbucks has hired more than 5,500 veterans and military spouses to date, surpassing the halfway mark in its commitment.
The Goodwill's staff has trained Starbucks regional and store leadership in diversity training regarding working with and supervising veterans. Goodwill also refers job candidates to Starbucks for consideration to join the Starbucks team as  part of the local partnership.
To further assist veterans, Goodwill San Antonio in 2014 opened the Veterans Resource & Career Center. Through support from Starbucks and other community partners, the center has had a significant community economic impact (5,545 veterans and their family members received job training and support services).