After the flurry of the New Year, with family gatherings and breaks from school winding down, we're given a few moments to reflect on all that happened in 2019 and how we can make 2020 an even better year. Setting goals is important. For me, setting goals and writing them down is even more important. It gives me something to go back to when I feel a little lost or with the triumphant satisfaction when there's something on the list that can be crossed off.
In speaking with friends and family members during the holiday season, there was one goal that kept popping up more often than others – become more financially stable. Save XYZ amount of money during the year. Or even generally, get smarter about how to spend hard-earned money. Though setting financial goals for yourself can seem daunting, by the end of the year you'll be proud to see how much you've saved and how close you are to reaching your goal. And with just a few lifestyle changes, that can be possible.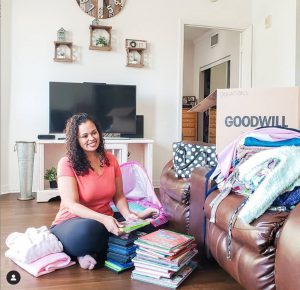 Photo: @chasingtheflores
The most important change to make this year is to spend less money by shopping smarter. An easy way to do this while still focusing on the quality of what you buy, is to head over to your local Goodwill store when it comes to a purchase involving clothes, shoes, accessories, toys, books and home goods. I have found some incredible items at Goodwill with the tags still attached, at an incredible fraction of what I would have paid at retail price.
Not only will choosing to shop at Goodwill benefit your net savings, but 87 cents of every purchase made at Goodwill goes to funding jobs and training for members of your community. In 2019, Goodwill network of 157 organizations helped prepare more than 242,000 people for new jobs and career advancement in the United States and Canada. Every purchase made at Goodwill and every donation given to Goodwill contributed to the success of others across the country. It can only be good karma when the bulk of the money you're spending is going to help others achieve the same goal as you – financial stability.
The second step to achieving financial and overall abundance this year is to live a more minimalist lifestyle. To celebrate that less can truly be more when it comes to material items, because it gives you the time to indulge in what gives you joy in life. Just think, the less clothes you need to fold, toys you need to put away, decorations you need to pack up and store, add up to precious hours that could have been spent doing something you love. Living minimally is more sustainable, shows self-control and makes room in your life for things that are not material. In order to pave the way for this abundance, it's important to share the abundance you may already have and don't use with others. When you unclutter your home, your closets and any toys or books your family may have outgrown over the past year, you are creating space for new beginnings for your family, as well as the families who will benefit from your donation.
When you start to live in a space that is less cluttered, you may find that you don't need as much as you once thought, and your life may begin feeling a little more abundant already.