One trend I've been seeing A LOT of going into this new year is acid washing! As we know, fashion history always repeats itself and this trend is no exception. I am seeing it in retail stores, online shops and boutiques! While I am loving this trend, my thrifty self is not loving the price tag — enter DIY acid wash! It is very inexpensive to do, it just takes a few items and a bit of patience!
Items you will need for this project:
A spray bottle
Either a tarp, a trash bag, or, if the weather is nice, a sidewalk!
Bleach
Your acid-washing items of c

hoice; t-shirts, jeans and sweatshirts (Tip: Darker, deeper colors work best!)
I headed to a few local Goodwill locations and grabbed some vintage tees and sweatshirts, ranging from 1.99-3.99! I was able to snag all my needed supplies from our local dollar store to make this project very budget-friendly.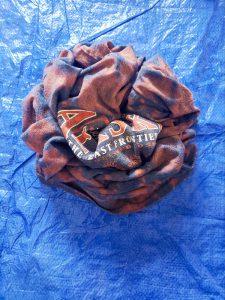 Steps
Lay out your garment and start "scrunching" the sides towards the middle to make a ball. This will give you that random pattern that makes it look natural.
Fill your spray bottle with 1 part water and 2 parts bleach. The water will keep the bleach from being too harsh and ruining your garments.
Start spraying! I used the "stream" setting for most of the process, then turned it to "spray" to give it a fun, speckled touch!
Let it sit for about 5 minutes, flip your ball over and repeat the process!
Lay your garment flat to see if there are any large areas that were missed and get those sprayed and taken care of.

Fill a sink with cold water and let your garment soak for about 30 minutes to let it "set."
Wash y

our garment in the washing machine with cold water. Make sure and have only your

 bleached items in this cycle!

Dry in th

e dryer, pull out your masterpiece and enjoy!
NOTE: If you are unable to do this project outside, please do so in a well-ventilated area.
You can do as many items during the process as you want and get so many rad pieces done all at once! Get the look for so much less by starting with items from your local Goodwill and feel good knowing that you saved an item from the landfill and created something completely unique! I hope you have as much fun with this activity as I did, I actually went and got more goodies to acid wash so I can do it again! Value the hunt!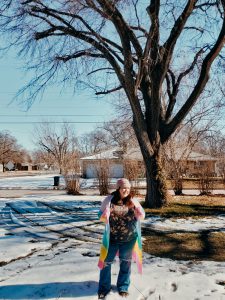 About our guest blogger: 
Daniele Phillips is a small business owner and has been an avid thrifter for over ten years. Daniele spends most weekends treasure hunting with her husband! She runs a social media platform for a local animal rescue and in her spare time she loves to read, take road trips and watch bad reality television. You can follow her thrifting adventures on Instagram at @thrift_inspired!
This post is adapted from an article that appeared in the Goodwill Industries of Kansas newsroom. Read the full blog post.