By Felicia Czochanski
Back to school wardrobe planning and shopping has always signified a time of transition for me. It's a change from the freedom of summer to the regimented structure of classes. It's the soft launch of fall weather and fall clothes, because before you know it weekends will be spent apple picking in between writing papers and doing other homework. Back to school also marks the milestone of back to pants weather – or more specifically, back to athleisure. It's sweatpants season, the season where wearing soft buttery looking leggings and athletic pants with an oversized top or sweater wouldn't cause anyone to bat an eye. Back to school is the season of comfort clothes, and I'm so here for it.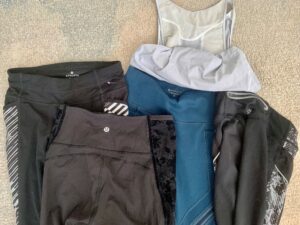 In my time thrifting, I've found that the athletic wear sections of Goodwill stores can be oftentimes overlooked. Racks of leggings and sweatpants can go relatively untouched for a while, causing them to grow and grow alongside new donations. For those who enjoy working out like I do, or simply want a comfy and stylish pair of leggings to wear around the dorm room or even to an 8 AM class, I have to say – run, don't walk to this section in your closest Goodwill. There are so many second-hand athleisure gems to find at such a fraction of actual retail cost.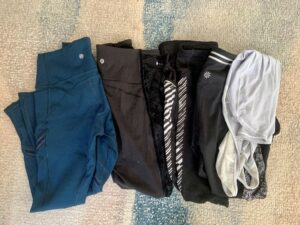 During one of my latest trips to Goodwill in Manhattan, I decided to try my luck in the athletic wear section. Unsurprisingly, no one else was browsing those racks so I had them to myself. Before I knew it, I found myself heading back up to the front of the store to grab a cart because my arms were overflowing with Lululemon, Athleta, Sweaty Betty, and Electric Yoga. It was such a win! I came away with really unique styles of leggings – like the pair from Lululemon which have a sheer velvet lace detail down the sides of the pants, and some great strappy patterned sports bras too. The other styles I picked up had multiple pockets, which is not only essential for runners who need an easy place to store their keys and phone, but also for anyone wearing leggings casually. The sizes of course will vary, but more often than not I find myself getting lucky and scoring pieces that I know will make their way into my usual rotation as soon as they're washed.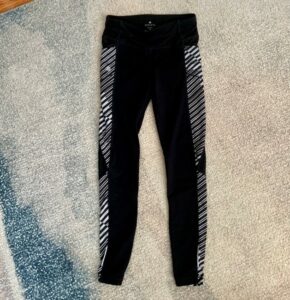 The next time you're up late studying at the library or find yourself with some free time on the weekend think about what you might do with some great like-new athleisure wear. If you're anything like me, it's great motivation to finish a paper so you can go to Goodwill!
Have a thrifted athleisure look that you really rock? Tag us at @goodwillintl in your posts for a chance to be featured in a future blog!