It's August, which means it's time to spiff up for the school year. Although the reality of the pandemic means that this coming school year might look a little bit different for a lot of us. So when we think about our typical back-to-school shopping trip — for whatever it might look like in the fall — the choices you make in your purchases might look a bit different this year, too. 
Attending online?
For those going back to school virtually — either as an educator or student — great news! You just cut your back-to-school budget in half, simply by only needing to dress from the waist up! PJ's on bottom? No problem. 
Comfort should always be priority number one. But, obviously, you want to put your best face forward virtually. So concentrate this year's back-to-school shopping on smart shirts, sweaters, and tops that scream "I'm here to learn!" even if the bottom half of you (that no one sees) might tell a different story. Don't worry, no one will see them, so it doesn't hurt if they scream, "These fleece pants have been lived in for days!"
But don't stop at clothes. You'll also want to think about what might be seen behind you, and Goodwill is a great place for decor pieces that are simple to make your learning space feel special. Or, if you're feeling creative, head over to the linens to find a blank canvas to create your own, unique virtual background!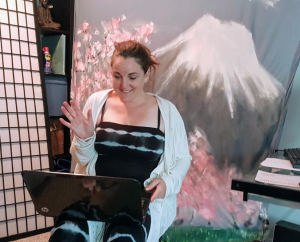 Credit: @teamhashtaggish
Attending in Person?
For those going back to school in person, there are new precautions to consider. Don't worry, Goodwill has your back there, too. 
Masks are easy to make, and by making your own using fabric found at Goodwill, you'll be helping to save the earth while protecting those around you. Find a t-shirt to make one with — and you don't even have to know how to sew!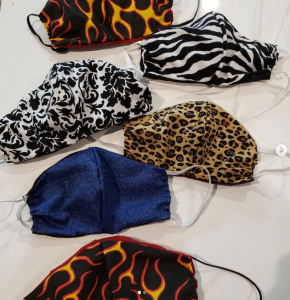 Credit: @jekalyn1976
Along with masks comes the need to store and keep track of them. No problem! Look around for bins and find a creative way to keep "clean" and "dirty" masks separate — so everyone knows the new rules.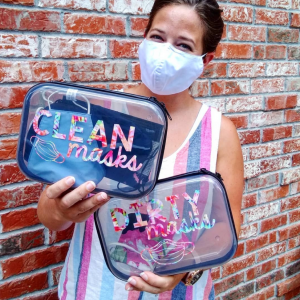 Credit: @busyamyb
---
As always, Goodwill is here to help you put your best foot forward — even if your classmates won't be seeing your feet. Shopping for back-to-school items at Goodwill isn't just a stylish way to show up as your best self for your classmates, but also great for your wallet and the planet.