By Felicia Czochanski
Whenever I travel I love going to Goodwill stores in new areas. I've found some of my wardrobe staples while on trips – there's a particular Goodwill store in Denver I'm thinking of that I can't wait to get back to. This is something that I've done all over the country as long as it fits in my schedule, and I know I can fit some purchases in my bag going home. So, when I planned my last trip of the summer to visit my sister in Cincinnati, I knew Goodwill was going to be one of the key things we wrote into the itinerary.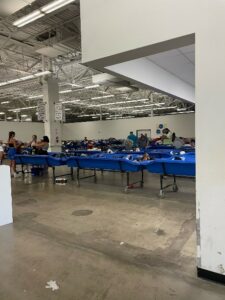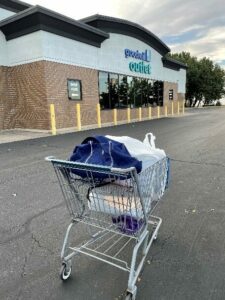 This was especially because we've reached the point in the summer when looking at the calendar creates surprise at how quickly the warm weather weeks have flown by. Somehow, it's time to start thinking about back to school wardrobes as the seasons start shifting away from days spent at the beach to sitting in class. Back to school was always one of those big milestones that gave me permission to 'restart' again and set new goals for the semesters ahead and whatever else life may bring. Especially as most schools kick off in person this year, after a few years of hybrid or remote schooling, one of the big goals for the year is connection – that physical, in person face to face interaction that we've so been craving. And you don't have to wait until the first day of school to start putting that into action. Grabbing a couple of friends or siblings for back to school shopping is the perfect way to set the tone for the year.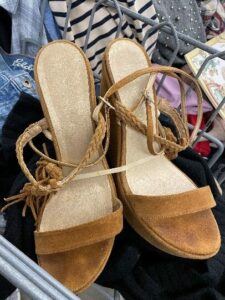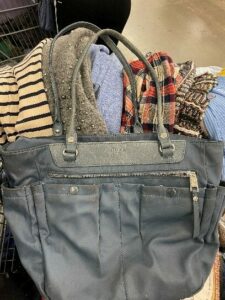 My sister and I decided to take a trip to nearby Columbus, where there was a Goodwill store that neither of us had been to before. We pulled into the parking lot to find the "palace" of Goodwill stores – the biggest I'd ever seen. Not only was there a multi-floor retail store, but there was also a Goodwill outlet attached to it. The outlet, also fondly known by thrifty shoppers as "the bins" was calling to us because neither of us had ever been to one. The experience was like no other thrift adventure I'd been on. We quickly found our flow with the bins, and uncovered some amazing treasure, in addition to new fall wardrobes. One of my favorite finds of the trip was a pair of brand new brown suede Stuart Weitzman wedges that were my size – what are the chances? We also came away with an awesome MZ Wallace tote bag (perfect size for a laptop and books), Nordstrom brand flannels, and an ankle length North Face puffer coat.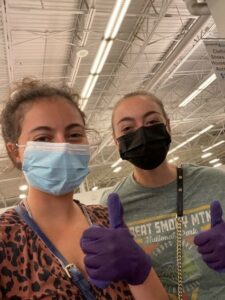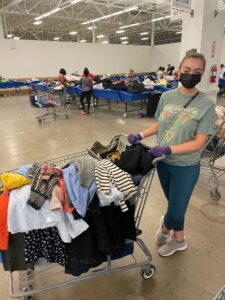 Time flies when you're at the bins – especially when new bins come out. It was almost like a game – and my sister and I are competitive. Three hours later, we checked out and our carts were weighed, and we paid for everything by the pound. It ended up being an even more wallet-friendly trip than expected and we came away with a fun experience and great new wardrobes to speak of! In my case, the trip was probably too successful, because I found more than would fit in my carry on bag to get home!
Have plans to go back to school shopping with siblings or friends? Tag @goodwillintl in your posts for the chance to be featured in a future blog!