It's that time of year again — the month of love is upon us. If you're lucky enough to live with someone you *still like* after months and months of way-too-much-together-time, congratulations! WELL DONE! And, if not — congratulations to you too! We've all made it through a tough year and it's time to show a little love to our significant others if we have them – and definitely to ourselves, too! So whether you're celebrating Valentine's or Galentine's (or both!), Goodwill® is the place to find all you need to show the love.
Vintage aprons are one of my favorite things to collect, and I always seem to find plenty of them at Goodwill. Just look carefully among the linens and you might just spot one that will make you feel like the queen of the house any time of year. I like pulling them out around Valentine's Day, especially when cooking special meals. And there's no rule that says you can't put one on to cook a special meal JUST for yourself!  
The clothing underneath? Totally optional, obviously.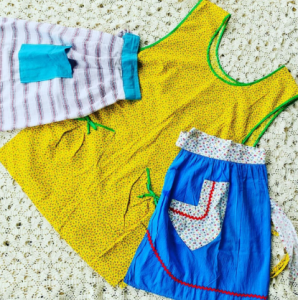 Credit: @franciscoantiquesandmore
Another great find at Goodwill to keep an eye out for is the awesome selection of glassware that's always available. Nothing says TREAT YO' SELF like some vintage flutes. These perfectly pink ones would look lovely holding mimosas on a Galentine's Zoom sesh with friends, or to use while toasting "I still don't hate you!" with your significant other.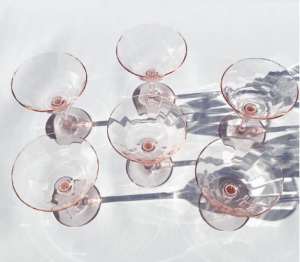 Credit: @llamallamainn
How about a movie? Even better, a BritFick or a RomCom? Goodwill has a great selection of movies to choose from to watch for a fraction of the price of new, and it sure as heck beats watching your significant other scroll endlessly through the streaming services for dayzzzz. (Cozy sweatpants for extended movie couch lounging also available at Goodwill.)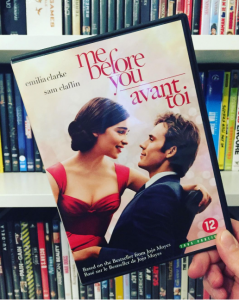 Credit: @mind_of_sandwicheees
So hey, it may not be the Valentine's Day we envisioned, but like they say, it's in the eye of the beholder. Make this lovey-dovey day one to remember, even if it's in your own home, with a little help from Goodwill.
By shopping at Goodwill, you're also showing some love for the planet — and your neighbors. By diverting items from the waste stream and supporting job training programs in your community, Goodwill is the perfect place to splurge for your loved ones any time of year!