Although it isn't officially summer yet, it certainly feels like it. But during these early warm months, a day of rain can really interrupt those long-awaited outdoor plans. I feel particularly annoyed when there is a streak of beautiful weather during the week and then, when my day off rolls around, it's dreary. To combat those rainy day blues, I've thought up some ways to bring the outdoors in and fill my time with summer vibes even if I can't actually be outside (well, without getting drenched, that is).

Image via domestically-speaking.com
First and foremost, we must find a way to bring some greenery inside. I'm a sucker for functional home décor so a hanging herb garden that looks great and also allows for some super fresh seasoning is okay in my book. I found the almost effortless tutorial for this on Goodwill Industries of the Valley (Roanoke)'s DIY home décor pinboard. By the way, I think mason jars may just be the most versatile item I've ever encountered. Any time you spot them in Goodwill®, you may want to snatch them up. The possibilities are endless! Of course you could think bigger, too, by thrifting buckets or bins for larger live plants, which will absolutely help to blur the line between indoors and out.

Image via fashionofgoodwill.org
We've set the scene a little with our plants, so now we'll have to work on our attire. To really capture that al fresco feeling we'll have to dress the part. I love all of DC Goodwill Fashionista's Six Under Six blog posts, but there's one that really caught my eye: the Summer Staples edition. Check it out to see a handful of fashionable summer finds for around five dollars. One great tip the writer offers is to look throughout the store for your necessities. She happened to find a beach cover up not with the bathing attire, but mixed in with blouses and dresses! Don't limit your chances of spotting the perfect piece by sticking only to one section of the store.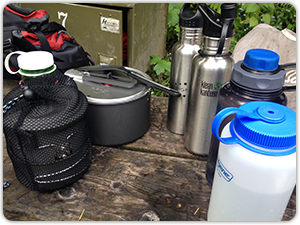 Image via amazinggoodwill.com
With some live plants littered about and proper summer attire on, there's just one thing left to do to truly bring the outdoors in. Any guesses? It's one of the most fun summertime activities I can think of! It's camping, of course. The days of blanket forts may be over, but that doesn't mean you can't still camp out in the living room. In fact, tents can always benefit from a little airing out, so why not pop that puppy up and invite your friends over for a faux-forest experience? As Goodwill Industries of Southeastern Wisconsin (Milwaukee) points out, Goodwill has everything you'll need for camping (whether you're inside or out). This blog post even includes the perfect list for packing light while being prepared. Grab what you need now and test it out on your next rainy day so you won't be caught unpracticed when it really counts.
Enjoy these almost-summer days, whether they're sunny for you or not, knowing that by supporting Goodwill you are also supporting a healthy environment (which means more happy outdoor activities!). Goodwill agencies serve as sustainability innovators by harnessing renewable energy, including installing solar panels on their roofs to becoming LEED certified. Pretty neat, huh? Thank you for helping to make that possible.