As I sit here playing connect the dots with the mosquito bite scars of summer still gracing my arms, I can't wait for cooler weather to cover them up again. I'm a bit relieved that summer has officially come to a close, and not just because of the annual scratchy souvenirs they leave behind. If there's one thing warmer months teach me every year, it's that I'm best built to endure harsh nordic winters. Fall LEWKS are my jam.
So as the leaves begin to turn and the sweet, sweet rumble of school bus engines wafts through the air, I'm on the hunt for all the cozy layers I can find. If it's stretchy, warm, it's hard to resist these days.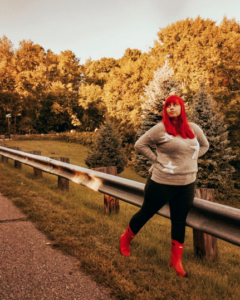 Credit: @stop.theshop
Sweaters are my first stop these days, and those 100% wool finds make my heart skip a beat. Extra points if it has a fun print, a v-neck, and that oh-so-lived-in feel.
Also, overalls. Do you have a pair yet? If you haven't heard, toddler chic is back and I'm about it. Searching through the racks to find anything that SCREAMS "wear me apple-picking!" is a definite yes. Besides, they have tons of pockets and they're way easier to go pee in than that summer romper nonsense everyone loves.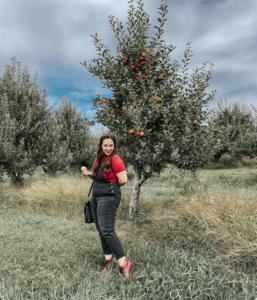 Credit: @jacsreverie
And nothing says fall better than extra blankets, and I'll admit it's one of my biggest Goodwill weaknesses. 
Unloved afghans? I'll love you.
Vintage comforters? I'll comfort you.
Oversized plaid wraps? Come hither.
A big pile o' cozy is just something I can't turn down.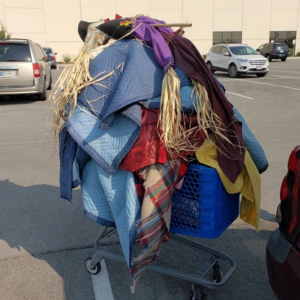 Credit: @lathriftjunkie
So go get cozy at Goodwill this fall knowing your comfortable purchases go towards making your neighbors more cozy, too. Goodwill organizations' employment programs promote independence and dignity for people to provide for themselves and their families. By purchasing used goods that put people to work in your community, you're keeping others cozy too.