By Felicia Czochanski
The shift towards remote and hybrid work over the last few years sparked the comfort revolution, and that's here to stay. Sweatpants don't have the same reputation they once did of being a "lazy" outfit. Leggings are for more than just workouts. There are ways of styling comfort-focused pieces that are on trend, while still being comfortable. It's the fashion statement we've all been waiting for.
Especially when traveling, prioritizing comfort is important. If you're planning to be on a long flight, train, or bus, you want to make sure that you relax and settle into your seat despite whatever else is going on around you. What you're wearing, and how you feel while wearing it is an important part of that. Layering can contribute to being prepared for anything when you don't have much control. An extra sweater can go a long way when there's no way to shut out the cold, and it won't be a hassle to take it off if you find yourself in the alternative situation. Plus, whatever you wear for the transportation part of the trip is something you don't have to worry about squishing into your luggage bag which is likely already full.
Travel outfits should be a combination of wardrobe pieces that you'll wear throughout your trip, while still staying cozy. Wear any bulky outer layers and something that could also be used as pajamas or loungewear. Even if you're an always on the go traveler, there's nothing like settling into something comfy at the end of a long day of walking and sightseeing. These pieces are easy and affordable second-hand finds that you can scope out at your local Goodwill store. There's no reason to buy something like a cute pair of Aerie sweatpants or Athleta leggings at retail price, when you could find the same item for under $10 at Goodwill. The athleisure racks at Goodwill are some of the less frequented in the store, meaning there's like a lot of treasure hanging there waiting to be found.
Take a look at the cozy travel outfit inspiration from real Goodwill shoppers below. Want to share your looks with us? Don't forget to tag us @goodwillintl on Instagram.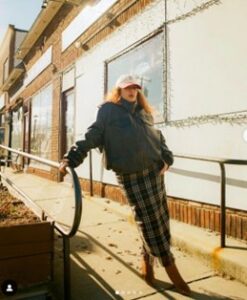 Photo: @melrivexpressions
Blanket Skirt
Full of warm and cozy layers, this outfit is perfect for travel while still staying chic. The vintage blanket skirt with a fringe hem is such an incredible statement piece that pairs perfectly with leather booties and the layered sweater and jacket combination this Goodwill shopper is wearing. The hat is a great reminder of what you'll want to bring on your trip too, and that you don't have to find space in your bag for it.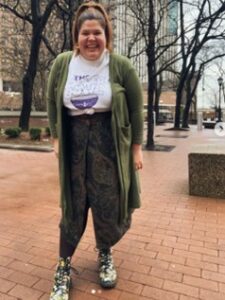 Photo: @gracegetsdressed
Carpet Bag Pants
This Goodwill shopper's travel style shows a cute way of putting together trip staples. She pairs a versatile sweater with an oversized shirt styled in the front with a tie, which she can let loose when she wants to relax at the end of the day. The carpet bag pants and floral Doc Marten boots pull the outfit together by making it unique. These pants are an incredible alternative if you want something dressier than sweatpants, but without shirking on comfort.