The temperatures are falling, the leaves are turning, and the leggings are coming out of the closet again. What does that mean? Time to get cozy!
This month, I'm all about bedding. Switching out the coverlets for the down comforters, bringing out the flannel sheets, and getting my bedroom all ready for a long winter snooze. And I have to say, I think the linens section is probably the most underrated of all the areas of our Goodwill® stores. But I've always found some fantastic stuff lingering unnoticed over there. And I know you will too.
On a recent trip to the Goodwill I found a gorgeous high-end down-alternative comforter with the dry-cleaning tags still on! Since my kid's rooms are the coldest in the house, it was a perfect time to upgrade their bedding for the winter. Into the cart it went, obviously. 
As it turns out, finding a duvet cover for it proved to be a bit more challenging. But the good news is that it's easy to make one of your own with sheets from Goodwill!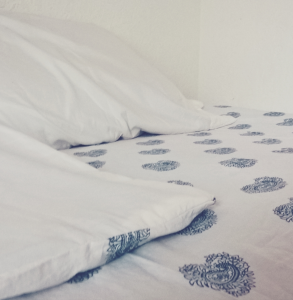 Credit: @kickakyra
Just head over to the linens section and find two flat sheets that are larger than your comforter. They can be matching or mismatched –or a fun little touch. When you get them home, lay them flat on the floor with your comforter on top. Then trim them down so there's only 1" extra on each side.
Pin the trimmed sheets with right sides facing and stitch along three of the four sides. Then just add buttons or snaps to the third side to finish it off. VOILA! I usually use duvet clips in the corners to keep them comforter from shifting too much. Want more detailed instructions? Here's a great tutorial for you to follow along!
There's also a treasure trove of throw blankets and pillows at Goodwill, and if you're like me, it's a quick way to change the look of your room. I love finding handmade or stitched blankets and throws, or embroidered pillows that have a unique character. Don't like the pillow cover's style? Buy it just for the nice downy insert or interesting shape it might have and make your own! This is a great example of a quick way this Goodwill shopper made a cozy update with some fresh pillows and a cute striped throw.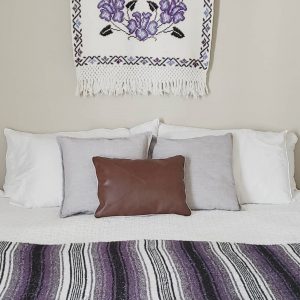 Credit: @pieces.of.kake
Don't forget to keep an eye peeled for some cozy bedside accessories, too. Check out this adorable little footstool Carmen found for $4.99 at a Connecticut Goodwill!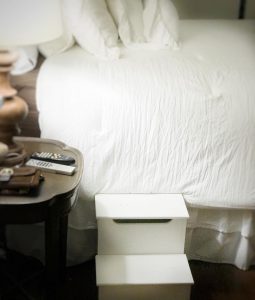 Credit: @carmenisantiag
So when you're busy making your nest cozy for winter, don't forget to check out your local Goodwill. You might be surprised by the treasures you'll find (or make!) from the linens available for pennies on the dollar. Not only are you going to love snuggling in for the winter, but you'll also feel better knowing your purchases help others stay warm too, by funding job training in your community.