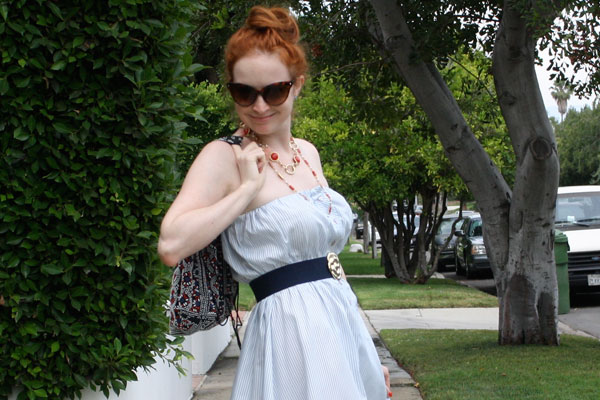 Hey guys, its Marisa from New Dress A Day here!  Summer is in full effect and everywhere I look, I see stripes, stripes, stripes! Summer and stripes go hand in hand, whether it's done in a nautical way:
| | |
| --- | --- |
| Dress by ModCloth | Dress by ASOS |

Or in a seersucker variety:
| | |
| --- | --- |
| Dress by Betsey Johnson | Dress by American Eagle |

I went into the Goodwill® around the corner from where I live to do some stripe scouring!  There are over 83 million donors in the U.S. and Canada which always blows my mind.  The "old" contributions from those millions and millions of donors ends up being my "new" wardrobe, which I couldn't he happier about.  After hitting all my marks, I found this lovely seersucker dress.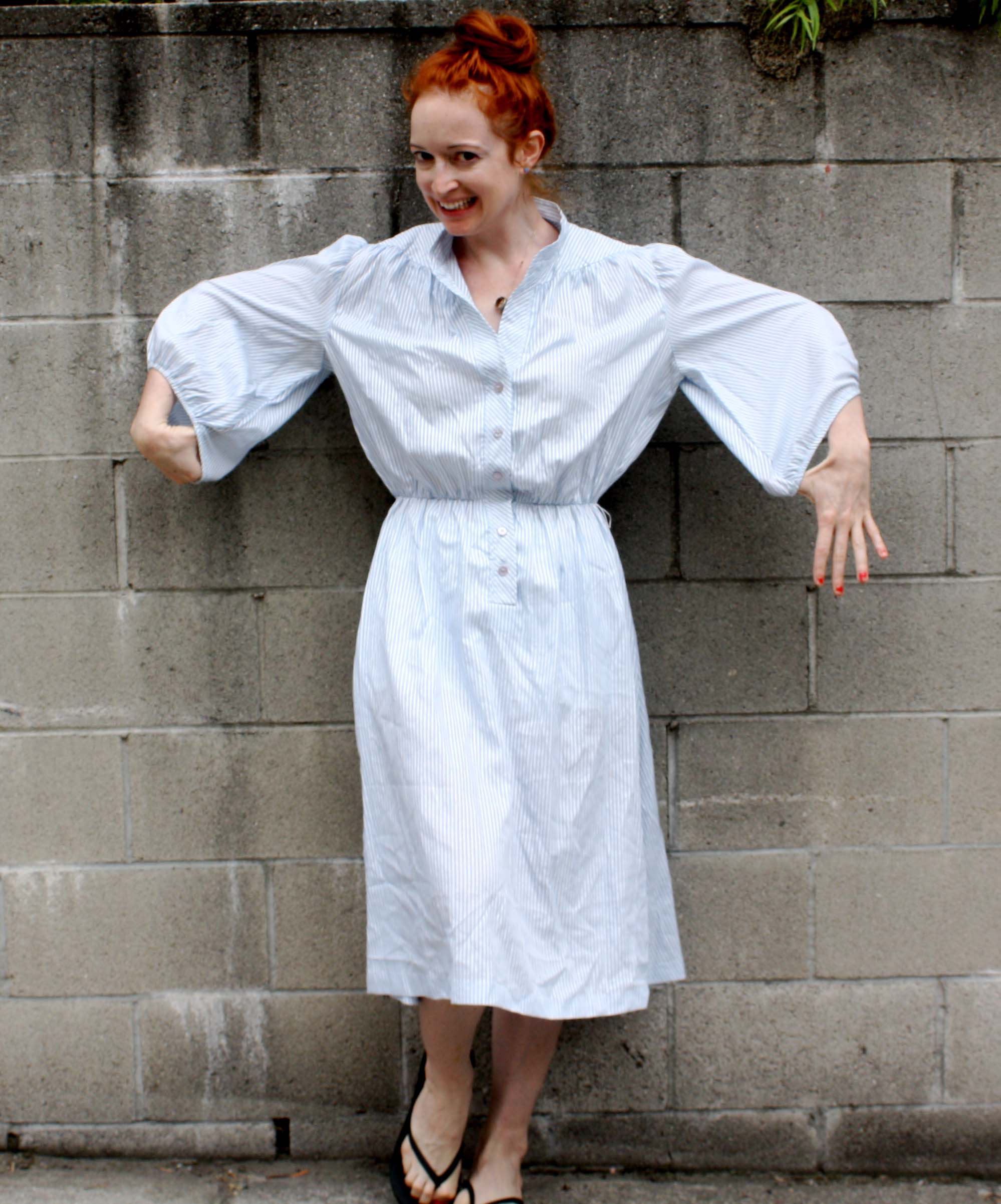 The fabric was amazing but there was some yellowing under the arms and the fit was a bit off.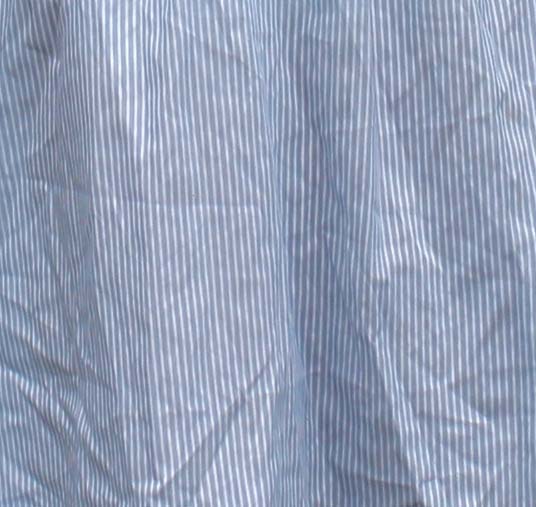 It wasn't screaming summertime, but I bought it anyway and knew that I could make this my striped staple in a jiff with a little bit of cutting and sewing. I cut off the top of the dress first, beginning at one armpit and cutting over to the other.
I pinned under the raw edging all around the dress and stitched it in place leaving a ¾" seam allowance.  (This is being done because I'm adding elastic in this space to turn the dress into a strapless piece.)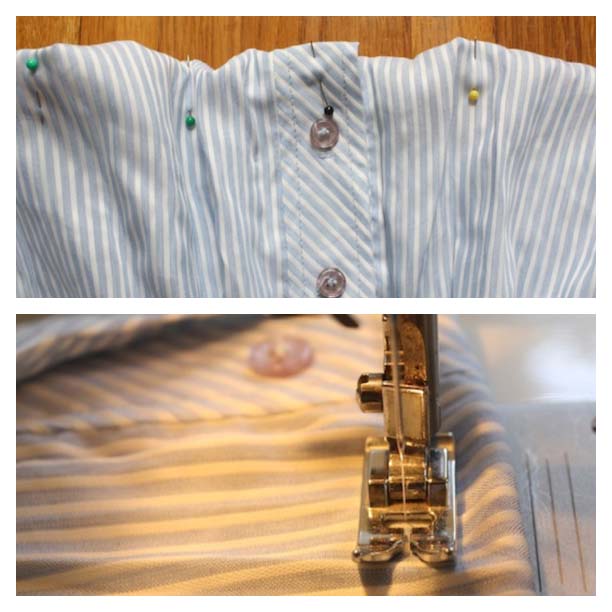 I took elastic and added a safety pin to the end of it to guide it through the space left in the seam.  Once the elastic made a full circle, I stitched the edges in place.
And there you go: a new dress by making just one major adjustment!  I paired my new sundress with some thrifted red Guess heels, a thrifted beaded purse, vintage red and gold necklaces, and a navy blue elastic belt that I borrowed, err, took, from my mom's closet about five years ago.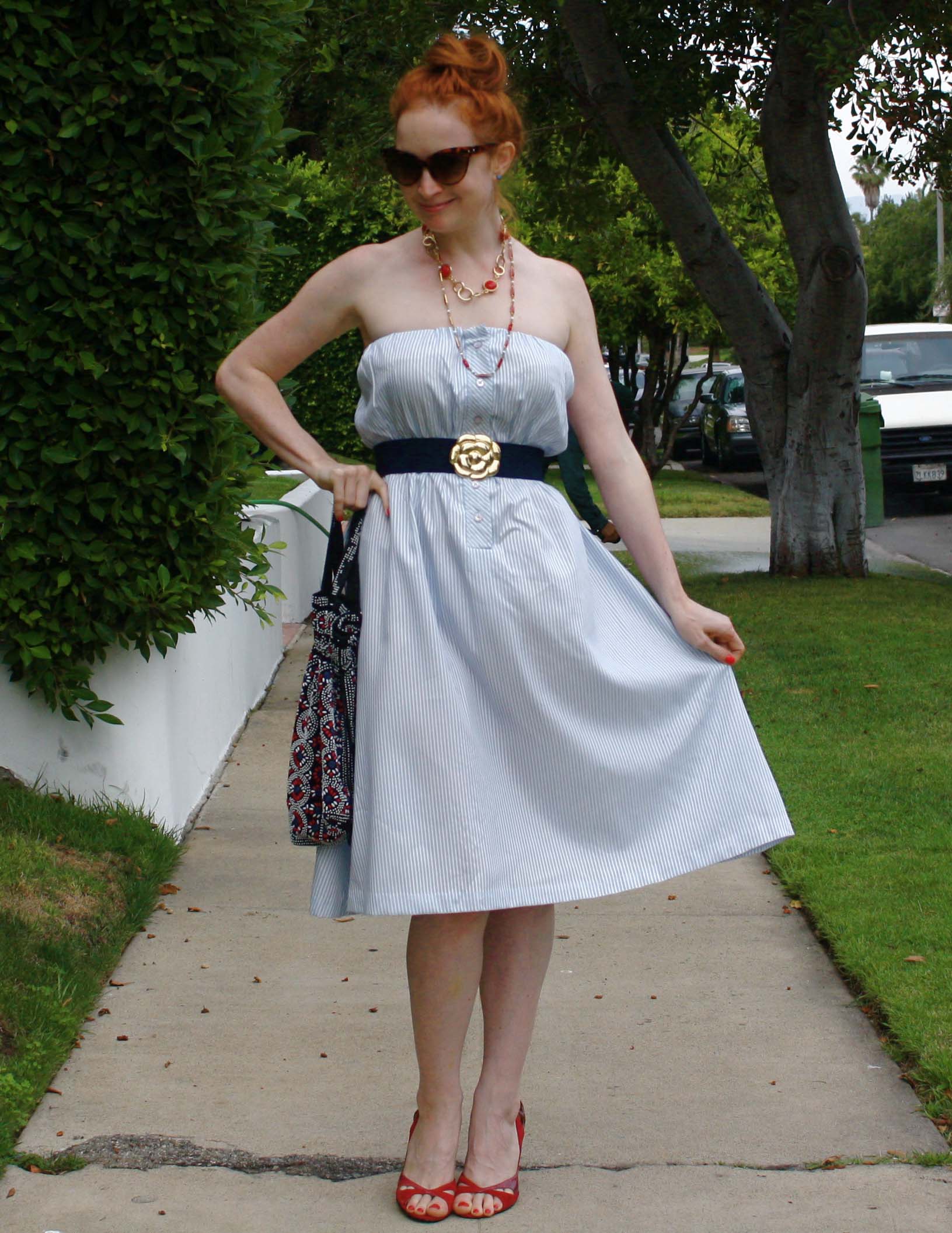 This is a piece that can have ribbon or elastic straps pinned or stitched on as well, if you don't want to go completely strapless.
This dress might not have looked summer-ready on the rack; however, when you find a piece where the fit is wrong but the fabric or color is perfect, there are always ways to tweak it to make it work for you!