My favorite Halloweens before my kids were born were the ones I spent agonizing over my dog's annual costume. Yes, you read that right. Not my own, my dog's. So here's a friendly reminder this season, although it's fun to find a costume for yourself or your kids, don't forget your pets, too! Here are a few ideas on easy DIY pet costumes that you can quickly make with Goodwill® finds.
This was my pup about 10 years ago. Quincy's a 60-odd pound brindle lab/greyhound mix, who has masqueraded as a hot dog (though he's so long he was more of a Coney dog, really), a cowboy, a lobster, a pirate, and every Halloween between 2010 and 2015, he dressed up as "Bark Obama." It was quite possibly the most genius costume I could come up with for him, and it was easy to put together by cutting off the collar of an old dress shirt and sewing on the end of a secondhand tie. A bit of elastic (or velcro) and voila! Here's a how-to if you're into the canine-corporate look for this year's trick-or-treating. So many punny possibilities there.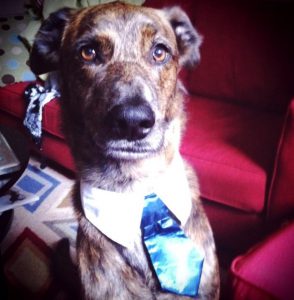 Credit: Jenna Pfueller
Want an idea for a DIY Doggie costume that's a little more on-trend? How about this awesome "Doggy Gaga" costume you can easily put together with pieces of a red t-shirt and some elastic.
I find that looking for kids costumes and making adjustments is also a good strategy. I mean, kids– dogs, basically the same thing, right? Who doesn't love a dog in a tutu? And if you can't find one in the kids clothing area, it's easy to whip one up with some elastic and tulle that your dogg-o can parade around in year-round.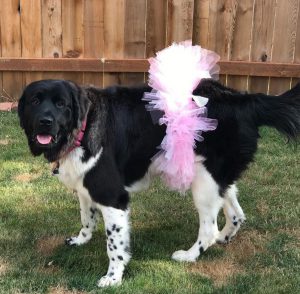 Credit: @Goji_and_Lando
Up for a "couples" costume that includes your four-legged friends? Here's a Scooby-Dooby-cute one that can easily be re-created with Goodwill finds.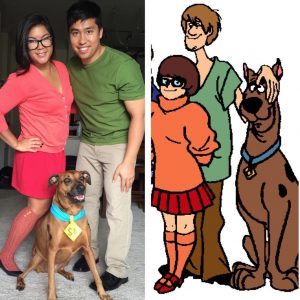 Credit: @chloebearpawdventures
If you're lucky enough to live in Santa Cruz, California, you might even be able to enter that DIY doggie costume creation of yours into the Goodwill Who Wore It Best Costume Contest from Goodwill Central Coast and win some sweet doggie swag!
So this year don't forget about your furry companions during your annual Goodwill Halloween costume searches. A little creativity and Goodwill finds can make every trick into a treat! And by shopping for your pet's costume at Goodwill rather than buying new, you're doing a favor for the earthy and your community by helping create jobs for people who need them and reducing your carbon footprint. Besides, dressing up is ALWAYS a treat at Goodwill!