More often than not, I find myself leaving my apartment with just my phone. I've seriously downsized the amount of things I carry with me when I go out, keeping all of my most-used credit cards, license and some cash in the back of my phone case. That, plus the addition of my apartment keys is the extent of the essentials I need to keep on me at all times. With that in mind, I've made it my mission to find the perfect fall handbag or wristlet to help me carry what I need without the unnecessary clutter.
I've come to find that one of the most overlooked areas of a local Goodwill® store is the handbags section. Oftentimes, the handbags, backpacks and purses are stationed in the back of the store or side of the store past racks and racks of clothes to sift through. When I head to my favorite Goodwill store, I usually find myself in a self-created routine. I browse through the dresses first, then tops, then sweaters and then head to pants and miscellaneous shoes, jackets and handbags. I don't know why, but I always head to the accessories areas last, though when I do browse them I find some really great gems.
The last time I was at my local Goodwill store with a friend, she navigated through the racks to the handbag section and found a pretty much new Kate Spade crossbody bag – which was exactly what she needed and the reason we had gone shopping that day. As I start adding to my fall wardrobe, I plan on updating my handbags accordingly and my first stop will be Goodwill – where I always find amazing designers at affordable prices and I love shopping and donating gently used items there to support others in my community.
Keep reading for more fall handbag inspiration!
1. Fringe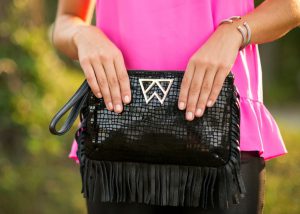 Photo: amybelievesinpink.com
Whether you're going out or want to flaunt your style during the work day, a clutch bag like the one above is sure to add a statement to any look. I love that this bag can be carried as a clutch or as a wristlet, so you don't need to worry about losing or forgetting it. The embossed metallic texture, with the addition of the fringe add fun elements to this flashy little bag.
2. Pops Of Color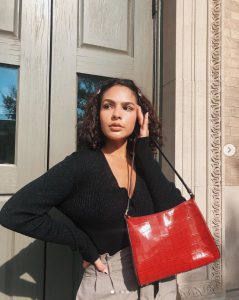 Photo: @mycatastrophy
When it comes to the colder months, it gets SO easy to fall into the routine of wearing darker colors – in my case, all black everything. This is why it's important to make sure to accessorize with pops of color, like the bag above (which was found at Goodwill!). The pleather look and red color are great to match fall attire and can help make any look festive as we get into the winter months.
3. Little Black Bag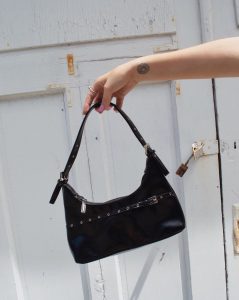 Photo: @agirlnamedkevyn
If you don't yet have a version of this little black bag, move that to the top of your wardrobe shopping list this fall. Whether you prefer your bags in crossbody, wristlet or satchel style having a bag that will match pretty much everything will make busy mornings that much easier, because you can just grab it and make your way out the door.