Spring really seems to drag its heels this time of year, doesn't it? Especially when you live as far north of the equator as I do. Though these late winter days do feel as though they are stretching slightly longer, and the sun is creeping ever so slowly back up further in the sky each day. I'm finding myself dreaming of the green that will surely return soon, but never quite soon enough for my liking.
So I look for ways to trick my cabin-fevered soul into thinking things might *just* happen to start blooming tomorrow by really doubling down on the on shades of green I surround myself with this time of year.
A great way to beat the winter blues has been to greenify my bedroom a bit extra during those long dark nights. I found some amazing curtains at my local Goodwill® a while back, but their length was complete overkill– even for cathedral windows. So it allowed me to have a decent amount of fabric left over to do something else within my bedroom. With a few sold yards leftover off after hemming both of the curtains to a less comical length, I figured I could use some new Euro sham covers for my plan old white pillows. They make a perfect resting spot while I read books against my headboard while I pile myself under ALL THE BLANKETS and pretend spring is around the corner.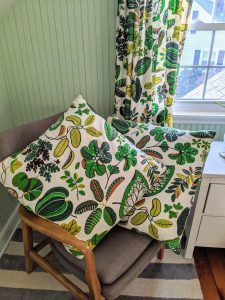 A few sprigs of greenery was also a good trick I started to help myself limp through winter in recent years. After finding some fake palms and faux fig leaves laying amongst the baskets at a Goodwill, I brought them home, dusted them off and stuck them into the honeymoon souvenir vase near a window. The light hitting them in the late afternoon sun is just enough to bring a little feeling of life back into my living room.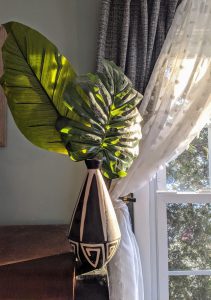 And check out these chairs that a Goodwill shopper scored last fall– both for just $6.99! I love that lush green velvet.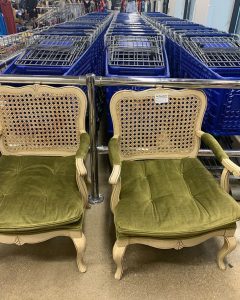 Credit: @glowycakes
Click here if you need some green style inspiration, or just want to feel like maybe summer is around the corner!
The absolute best part of greening up the winter blues with Goodwill finds has been that it's also helping to keep our planet green, too. In 2019 Goodwill's organizations diverted over 4 million pounds of textiles from landfills and giving millions of items an extended useful life. Now that's a LOT of green!