I don't remember much about elementary school — it feels like a lifetime ago! — but some life advice my fourth-grade teacher gave to the class has stuck with me through the years:
Find a spot in your home that is your dedicated work space. Choose anywhere you can focus, but not your bed. When you separate an area to be solely for work — not work and sleep — you'll be more productive.
Little did she know that so many years later, many parts of the United States would be gearing up for their sixth month of working from home and preparing for a virtual fall semester of school. As our society works to remain safe and healthy while still allowing children to learn efficiently and businesses to operate as usual, it's important to facilitate changes in your home to ensure all family members are set up for success.
This impromptu need for new furniture and the space to house it may seem like a daunting or nearly impossible task to execute before the start of school. Furniture can be expensive, and those of us living in small apartments may not think we have the space to create a virtual work or learning nook. With a little creativity and the help of second-hand stores like Goodwill, you'll be able to find what you need that fits within your budget and living space limitations.
Below, you'll find some inspiration of how some families have created their own work-from-home and virtual learning spaces for minimal cost. The investment into this space will be two-fold, as it will help you and your family stay on track with work and school this year when the world looks so much different than before.
1. Rattan Desk Set-Up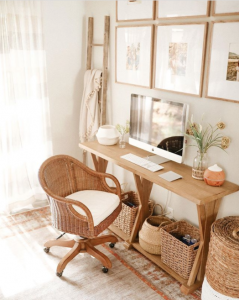 Photo: @drab.to.dreamy
This desk set-up is second-hand magic at its best. Thrifted woven baskets replace the classic file cabinet as tasteful under-desk storage, creating a minimalist look that will keep you grounded as you work and leave space for all the materials you don't need cluttering up your work space.
2. Virtual Learning Together
Photo: @brownies_forever_farmhouse
This thrifty mama put together a virtual learning nook for her three sons for under $30! If you have more than one child taking part in online school this year, this setup provides perfect inspiration for how to create a productive yet fun learning and homework space, in lieu of traditional classroom desks.
3. Less is More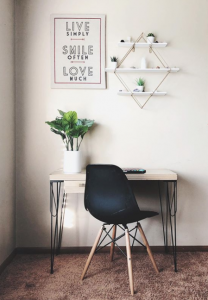 Photo: @underthemomfluence
This minimalist homework station may look clean and empty now, but give a few weeks into the school year and it will be full of scattered books and notebooks. When it comes to setting up a space for virtual learning or working, less can really be more, as it leaves room for busy days and inevitable school materials.
4. Don't Forget the Video Call Backdrop!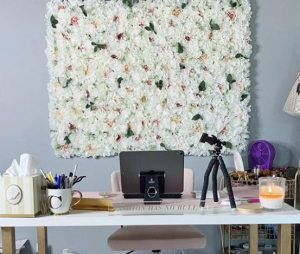 Photo: @missiedenise
I love how this desk space shows this entrepreneur's personal style, while getting creative with the wall space behind it. Oftentimes while working from home, we're expected to meet with colleagues and clients through a video call, and it's important to have a clean and non-distracting background in place when that happens. This flower art is a spectacular option, but some more accessible options could be photos, artwork or a bookshelf.
Now that you've gotten some inspiration for your virtual work or school corner, head to Goodwill to pick up the items you need to make your dream space a reality!