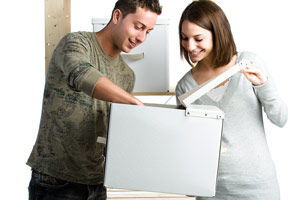 Spring is right around the corner. As I come out of my winter hibernation, I find myself experiencing the following symptoms:
The urge to clean my space
The need to clear the clutter
The desire to repurpose the stuff I no longer use
Do you experience one or more of these symptoms? Fear not — you, just like me, simply have a case of the spring cleaning bug! Gladly, Goodwill® has two new partners that have joined the Donate Movement to help us declutter our lives and help those in need in our community.
Clean Out Your Drawers
In effort to help aid your spring cleaning, Hanes and Goodwill have partnered to launch the Clean Out Your Drawers initiative in March.
Hanes recently conducted research that sheds light into the usually dark spaces of our closets and drawers.  According to a national survey commissioned by Hanes, most people wear only 70 percent of the items inside their drawers.
Together, Hanes and Goodwill want to support your efforts to organize, donate and replenish. The program was developed in response to an overwhelmingly common occurrence of cluttered, messy drawers, and offers fun and easy solutions for getting organized. Visit www.facebook.com/Hanes for more information and tips on how to Clean Out Your Drawers.
Dress-cue Your Old Clothes
Planet Green and Goodwill are also working together to educate you on ways you can make the world a better place. Part of the Goodwill and Planet Green partnership includes the April launch of the network's new docu-series, Dresscue Me, featuring self-taught designer Shareen Mitchell.  Owning stores on both coasts, Shareen works with everyday women on her show to turn vintage clothing finds into chic, fashion-forward frocks.  After you donate all those items from your spring cleaning extravaganza, she will provide you tips on how to look your best in the new season.
Out With the Old…
To cure my spring cleaning bug this year, I will be taking my donated goods to my nearest Goodwill.  Computers, books, clothes, lamps and many other items can be donated to Goodwill.  To find out what items are accepted and where to donate: