Goodwill can help you create a functional and fun home learning space, including furniture, organization systems and decorations.
Having a dedicated learning space in your home is important. You don't need an entire extra room to turn into a "classroom." A small table or desk with good lighting is enough. A special spot helps your student get into the right mindset to be ready to work when they sit down there every day.
If your space needs to do double-duty as a dining table and school desk, it will help to have a system in place for quickly and easily organizing schoolwork and supplies. That way when it is time for school, your student is ready for school. When school is over for the day, you can pack it up and make space for other activities in your home.
Furniture
The Goodwill furniture section is a great place to look for a desk or table to use as a workspace. I didn't see any desks on my recent visit to the Fairfax, VA, store, but I did find several chairs. (I also found this super-cool kids easel with a chalkboard on one side and a large roll of paper on the other!)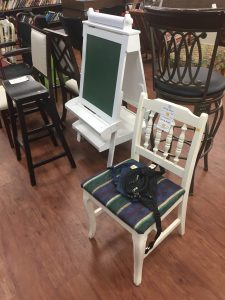 Don't worry if the chairs look old or outdated. A little bit of paint and/or new fabric can freshen up any chair. It's an easy DIY project—and your kids can help too!
I love these ideas from artist and Finding Your Good blogger Tim Kime:
Let your child pick out their favorite color(s) and write their name, an encouraging phrase and/or a goal for the year on their chair to make it their own.
How fun would this be to do with your kids? Don't worry if it doesn't match your usual décor. These are stressful times we are living in—  for you and for your children. Adding a little bit of fun — and a whole lot of beautiful colors — to their learning space is a good thing!
I love this idea of choosing colors that remind you of a favorite place, especially this year when a lot of people are limiting travel out of coronavirus concerns. You could also paint your chair to reflect favorite activities or sports teams.
Organization System
Once you have your workstation in place, it is time to consider how to organize it.
I found so many great organizing ideas at Goodwill last week. A file cabinet or cubby is nice so everybody can have their own spot to put their stuff.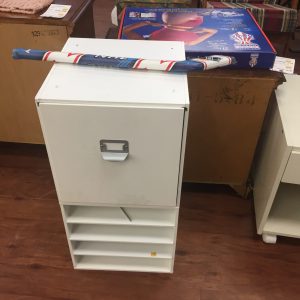 Maybe portable bins are a better option for your family's learning space.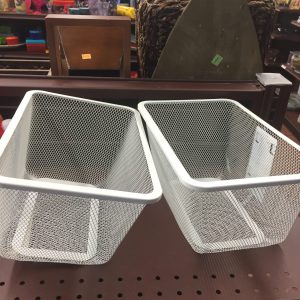 At my house, we can never seem to find the right pencil/eraser/stapler/you-name-it when that is the item we need at that exact moment. Sound familiar? How about a fancy box to hold all of those school supplies right there on top of your desk?
DIY IDEA: Boxes like these can also be painted to fit your style: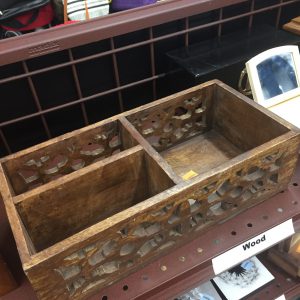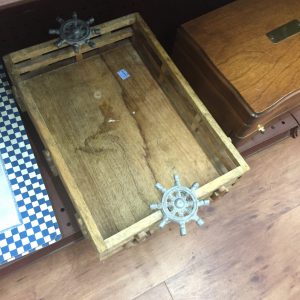 Or check Goodwill's housewares section for a cup to upcycle into a pencil/pen holder: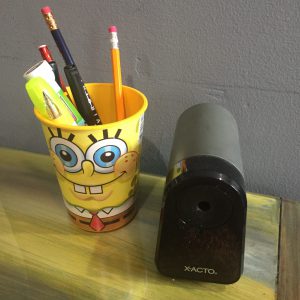 Decorations
Once the functional items are in place, it's time for some fun!
For younger students, I found these not-so-ferocious dinosaur bookends in the Toy section — cute and perfect for organizing reading materials or workbooks. I also found this fun sign with binder clips for displaying kids artwork.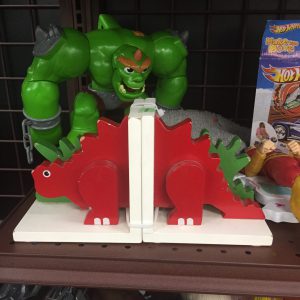 DIY IDEA: Signs like these can easily be repainted for a more grown-up look and function. Here's a tutorial on a similar sign I found at Goodwill and transformed for photos or to-do lists.
Don't forget to swing by the picture frame section at Goodwill for more fun decorating ideas. There are so many ways you can transform old frames to decorate your learning space.
Here's another awesome tutorial from Tim on how to transform old frames into memento displays. Here are some frames I personalized last Thanksgiving. You could do something similar with inspirational messages for a great school year.
Goodwill offers lots of easy and inexpensive ways to make your learning space functional and fun. If you find the perfect thing for your learning space, share a photo on Instagram with #MyGoodwillFind and #FindingYourGood. I would love to see it!
And to all of the students, parents and teachers out there trying to figure out how to make this crazy school year work, let me just say: WE CAN DO THIS!
Courtney Mickalonis is an artist, teacher, and treasure hunter at All Things New Again, a furniture and paint boutique in Leesburg, VA. She finds old furniture that nobody loves anymore and makes it beautiful—and useful—again. Courtney teaches a monthly Learn How to Paint Furniture class at their Leesburg studio and hosts The Furniture Painting Friday Show every Friday at 12 noon on the All Things New Again Facebook page.
Reposted with permission from Goodwill of Greater Washington.