This week, after nearly 5 months away, I made my first trip to my local Goodwill store. Even with all the new, necessary health precautions taken on my first visit during the "new normal," it felt nearly the same — and, in a lot of ways, better. Let me explain. 
Like a lot of you, the time I've had to spend apart from our Goodwill stores has been hard. I wasn't just missing the solo trips to my happy place or finding treasures on my lunch break, but it was also hard not having my favorite place to take all the stuff I no longer needed. Especially as I sat in my home staring at it for far too long. 
Piles of donations piled up in my basement as I did my usual spring purge of too-small clothes for the family and just generally unused stuff. I live in a small house, and everything in it has to prove worthy of the space it takes up. It's always been a "circle of life" around here — it comes from Goodwill, and, oftentimes, it goes right back when it's no longer needed. 
So, the opening day of my local store was a long time coming. I made sure I had all my necessary items (hand sanitizer, mask, and a set of gloves, just in case) and checked the website of my local store to make sure I was aware of all the changes I might see. Everything I saw they were doing to protect everyone was so reassuring and positive, I couldn't wait to see it myself. Not to mention the promise of epic donations (like mine!) filling the stores.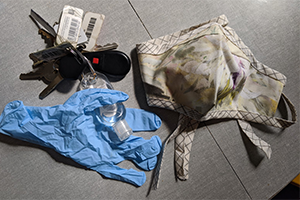 The first store I went to had a long line. I didn't have a lot of time before closing, so I thought I'd give a bigger store a shot, since they'd allow more people in a store with more square footage. My second Goodwill stop had no line and I was invited right in by the door greeter. I got a freshly-wiped-down shopping cart and off I went.
The first thing I noticed were the arrows on the floor, as now all the aisles were one way to help customers social distance. (The second thing I noticed was how long it's been since I had a proper pedicure!)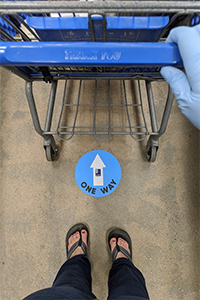 I love this idea. Not only did this system help to keep us safe, but it gave me more time to browse without worrying if someone might need to scooch by in the opposite direction and accidentally get too close.
My first stop was books, since who KNOWS how long this at-home schooling situation might last. I found a few educational ones to help teach the kiddos how to tell time. I found a SIMON game, one with still-working batteries, and decided that was educational enough to pass for "school supplies."
Over in the kitchen supplies, I found a brand new doughnut maker in its original box for $5. Funny enough, the whole time we were in quarantine I was kicking myself for not having one to make my own gluten-free donuts with. Voila! The universe agreed it needed to happen. Now I'm ready for the next pandemic.
As I walked past the dressing rooms, I noticed only one was open, and an attendant was wiping down the doorknobs after each customer. I wasn't trying anything on today, but it was reassuring to see the precautions in action.
I noticed a lot of what appeared to be wedding reception decor and centerpiece stuff lining the shelves, so if you're in need of that sort of thing, be on the lookout!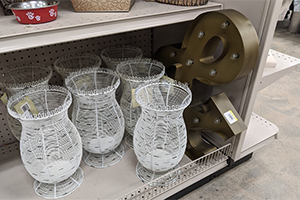 I also found some great (BRAND NEW!) shoes, a fisherman's vest for a Father's Day gift, a vintage magazine rack for the den — and a few nice sweaters, too. 
The most noticeable difference was at checkout, where, like at every other store now, there were plexiglass barriers in place for safety. But the most reassuring part was that it was the same smiling faces behind them.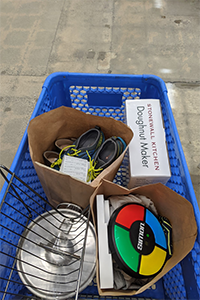 Overall I was excited to be back in my happy place and not worry about crowded aisles.Will I be back? Absolutely. And you should too!
Now, more than ever, Goodwill's mission to provide job training is needed by communities nationwide. I hope you'll stop by on your next outing to see what all of your neighbors were eager to purge during their time in quarantine, and help fund Goodwill's services that allow your neighbors to get back on their feet.