For me, turning the clocks back an hour means more than just another hour of daylight. It's the symbol that spring has sprung, the end of one season and the start of another. It's also one of those days that I like to use as a reminder to take a step back and look at the things in my life, trying to see what needs work or a little refresh. More often than not, this refers to my closet – in both its organization and in the seasonal items I've stocked it with over the winter, thanks to spontaneous and unnecessary shopping trips.
Especially because I live in a small New York City apartment, doing the inevitable end-of-season closet cleanse has become an extremely important ritual. It helps save closet space, because with the changing of the seasons also comes the changing of apparel. And, as I've learned, it also saves time by having a less full, more organized closet space, because you're able to see all of your articles of clothing at once, instead of hoarding items in boxes and bins that you'll never wear because you forget you have them. Daylight Savings comes in handy with this, because you can use the extra hour in the day to do something productive – like tackle that area of the closet you've been too scared to go through for the last month!
As I go through my piles of clothing and shoes at the end of each season, I like to section them out in terms of "need to try on" aka, the "maybe" pile, "must keep" and "donate." Anything that I haven't worn in the last three-six months automatically goes into the donate pile. Anything that still has tags on from a long-ago purchase that can't be returned automatically goes into the donate pile, which I'll later take to my local Goodwill® store that's about a 15 minute walk from my apartment, so I'll get my steps in while giving back to my local community; it's a win-win!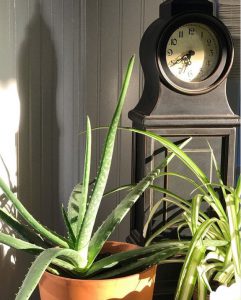 Photo: @two_bird_nest
I love the feeling of dropping off some of my well-loved new-with-tags items at my local Goodwill store, because I know I've freed up room in my closet and in my life. I also know that my donation contributes to helping others find jobs, because every 30 seconds someone earns a job through the help of Goodwill, and this is funded by the reselling of donated items. I also love this feeling because I know that by getting rid of items that I haven't worn in a while or that I didn't love as much as I did when I tried them on in a store, I've made room for better-fitting clothes in my closet and I've made my life easier in the meantime, by narrowing down the outfit options I have to choose from each morning.
Goodwill accepts all types of donations, that go beyond just tops and bottoms. You can donate shoes, accessories, books, toys, home and kitchen items and even cars. Not sure if something you can be donated to Goodwill? Check out this page here for more information. But in most cases, where there's a will, there's a way. Goodwill is dedicated to reselling and repurposing donations to help benefit local communities across the globe, so before you toss that toaster or pair of sneakers in the trash, remember to bring them over to your local Goodwill first to see if they might accept them.