Spring is in the air – and I think we can all agree, it's about time! It's amazing how a little bit of sunshine and warm weather can uplift your mood. Whether you make time to take a walk in the neighborhood during the day or simply start enjoying some fresh air in your home by opening your windows, as the last of the snow melts the spring seems to bring so many new opportunities and possibilities.
While we may not be able to get back to our "old normal" this season, warm weather does make it more likely that you'll spend some more time outdoors. You may not be going into work everyday, but staying safe in public spaces like parks and hiking trails is a great way to not only dust off the cobwebs of winter and get moving a bit more, but it's also the perfect chance to show off your spring style.
It happens every year, but the first warm day always feels like it hits out of nowhere and at the snap of your fingers it's time to swap out your go-to sweaters for your favorite strappy blouses. Feeling a little unprepared this year? It's only natural, especially considering most of us have been hibernating indoors for most of the winter! But, there are a few things you can do to get both your home and your wardrobe refreshed for spring.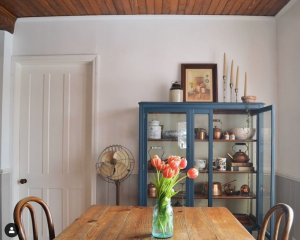 Photo: @littleenicky
1. Kitchen Cleanout
It's no secret that the kitchen – one of the most frequently used spaces in the home can become the place where all of the non-food related items tend to pile up. Like mail, or a jar of coins you meant to turn into cash a while back, sets of keys that can open things you're not even sure you have anymore, wires and cords that belong to who knows what… should I keep going? The kitchen is a space that should make your home feel like home, not like a room full of a stressful to-do list that you never seem to have time for! Spending a half hour each day tackling the things in your kitchen that don't belong, while also putting things into piles that you know you haven't used in a while will help you free up space, making more room for great family memories and creative recipes at the same time.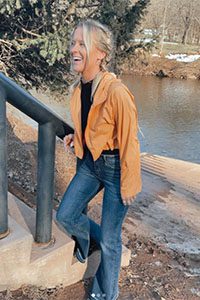 Photo: @hanreinhard
2. Transition Wardrobe
Depending on where you live, starting to curate a transition wardrobe as you go through warm and cold weather clothes could actually be pretty easy. A lot of the pieces the thrifter in the picture above is wearing could work for multiple seasons – the jacket is great for spring or fall, the top works in any weather, and the jeans are a staple from fall through spring. As you start putting together your wardrobe for spring, try this tactic that I've found to be helpful in determining what I'm actually wearing in my closet. The items you do wear, put back on the hanger and move to the other side of your closet – then see how long it is before you go back to them again! Before long, you'll figure out which items in your closet haven't moved and which items are your go-to pieces. This should make it easier for you to let go of any attachments and put them in piles to make room for warm weather storage – where we all want to look and feel a little lighter both in and out of the house.
Photo: @audreyhopsforhealth
3. Donate
Finally, once you've tackled the kitchen and other living areas of your home and have done as much as possible when it comes to your closet – you should find yourself left with assorted piles that are ready to be donated to your local Goodwill. Once these items have been bagged or boxed and packed up for the journey to their second-hand home, you'll immediately notice how your decluttered spaces can reduce stress and get you ready for a fresh start this spring. Use the store locator to find the Goodwill closest to you. Happy spring cleaning!