By Felicia Czochanski
There's a beautiful, thrifted statement piece starring in photos of most of my recent special moments.
From a milestone birthday party, to an engagement, to an engagement photoshoot, I've been able to find the perfect sustainable, second-hand luxury look that embodies the in-the-moment feeling of happiness and excitement for the occasion for which I'm wearing it. My favorite Goodwill finds have helped me better celebrate some of the best days of my life – which makes it all the easier for me to celebrate National Thrift Shop Day on 8/17.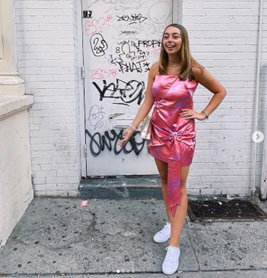 Felicia in her thrifted Likely birthday dress. Photo: @felicia.czo
Back in December, I had one of the best days of my life when my now-fiancé brought me on a walk through our neighborhood, which connects to Brooklyn Bridge Park, and got down on one knee at the end of a pier. I said yes, of course, and we snapped some pictures and selfies of us happily frozen under the Brooklyn Bridge. For anyone who knows my love of luxury thrifting – it was no surprise to learn that I was wearing a Ralph Lauren Collection dress I had found at Goodwill, paired with a wool and cashmere blend Eileen Fisher jacket I had found on another thrifting trip.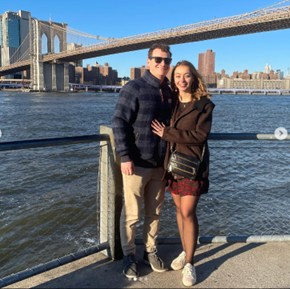 Felicia in thrifted Ralph Lauren Collection dress and Eileen Fisher jacket. Photo: @felicia.czo
While we took our own photos that day – my fiancé planning the engagement to be a surprise – I knew that I would want a full engagement shoot in the spring (no more shivering!) in the park that means so much to us. After months of searching for a photographer, we finally found someone who was our perfect fit, and scheduled the date for our photoshoot. After that, I had to focus on finding the perfect dress. I wanted something romantic and pretty. Something that would complement my skin and hair coloring and stand out against the Dumbo, Brooklyn backdrop we had selected as our shoot location. I knew where I had to go to look for a dress – the new favorite Goodwill store I've talked about in other posts, which in the spirit of National Thrift Shop Day I'll share that it's the store at 14th Street and 5th Ave in Manhattan (you're welcome!). Two trips with a few weeks in between later, I'd found the perfect dress.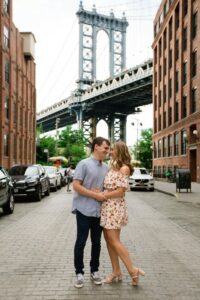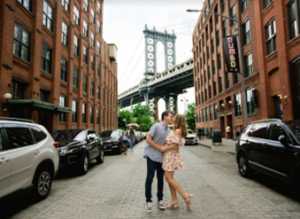 Felicia in the thrifted Lovers + Friends dress. Photographer Credit: @michellekayphoto
As you can see in the pictures, the dress itself has movement to it. It's ruffled, which frankly is not something I'd usually go for especially on top, but for some reason it just worked with this dress. The color were beautiful burnt orange flowers and a base color of pale pink and cream. It was off the shoulder, adding a little flair, and shorter than the midi styles that are so popular right now – so it showed off my legs and taste in shoes. The dress, which I found serendipitously on the back of a rack with a hidden purple tag on a purple tag day (score!) was $7.99 but 40% off that day, giving it a final price of $4.79. It was one of my super steals. The dress was the Lovers + Friends brand sold at Revolve which at retail price would be $198.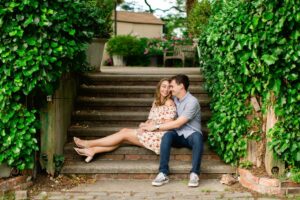 Felicia in thrifted Friends + Lovers dress. Photo: @felicia.czo
If you've been following my column over the years, you know I love a great luxury find at Goodwill. I've written in previous blogs about some of my best finds – a new with tags silk Prada blouse, a Valentino sweater set, a Gucci halter top, a Missoni tank top (yes, I love my Italian designers) and more casual luxe finds like my favorite pair of Mother jeans and this Lovers + Friends dress. You never know what you'll find when shopping second-hand, and there are so many gems out there just waiting for you to pick them up off the rack.
What are your favorite Goodwill moments? Tag @goodwillintl on Instagram in your posts for a chance to be featured in a future blog post.