Kids learn and grow by trying new things, exploring, and—yes, by making messes. With so many exciting experiences, they are naturally tempted to dive from one activity to the next with little (if any) regard for clean-up. Then, inevitably, an hour later they'll need your help finding a favorite toy that was lost within the rainbow-colored rubble of a fun afternoon. As frustrating as this can be for us parents, it's just how kids work. One way that we can support their curiosity without stifling play is to create an environment in our homes that organizes activities in a way that makes sense to little ones. Good news for you—it may also save your feet from the dreaded Lego-stab.

Video via goodwilltips.blogspot.com
I want to start with this post on how to organize kid clutter that was shared by Goodwill Industries of Michiana, Inc. (South Bend, IN) because Lorie's video lays the groundwork for how youth and order can co-exist. One of her most important tips is to keep things on your child's level. When everything is within their reach, your kiddo will gain independence and confidence and they'll even be more likely to clean-up! Of course, it's equally important that everything has a clearly established place. Just throwing all of your little one's toys into a toy box, although it's certainly easy for them to reach, only encourages big messes because it will still be hard for them to find the specific toys they seek. As Lorie suggests, use smaller containers that are well-marked (with words for kids who can read or words accompanied by pictures if they're still learning their letters) for every individual game or activity. Below is a great example of this!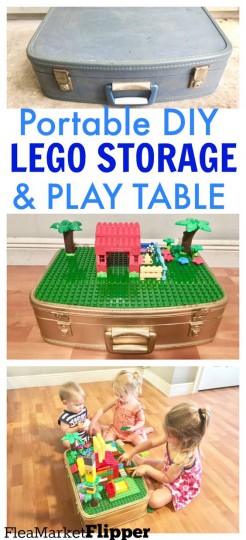 Image via fleamarketflipper.com

This portable DIY Lego storage space is a creative display exhibiting the exact technique mentioned above; It's a self-contained play space dedicated specifically to one game and it's clearly marked even without the use of words or pictures! Plus, since it's easy to move, it can find a new home as your child grows (so it's always within reach) and could quickly tag-along on a family vacation to entertain on-the-go. I found this idea on Goodwill Industries of South Mississippi (Gulfport)'s DIY Pinterest board which has other easy craft ideas, too! To make your own, grab a second-hand suitcase from your local Goodwill, paint it a fun color then glue down a Lego base on the lid. It's an instant environment for building and invention! Clean-up is as easy as throwing pieces inside the bin and, with its own separate space, Legos won't be mixed up among other activities.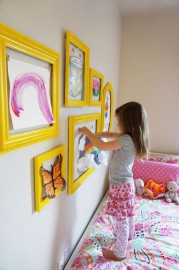 Image via morningchores.com
How about artwork? If your current practice is just flinging it up on the fridge until it gets splashed with water or slides to the floor, some thrifted picture frames can come to the rescue. Grab a bunch in different sizes and shapes then repaint them with one bold color. Add string and tiny clothespins so new art can quickly replace older displays that are ready to retire. The matching color on every frame brings otherwise mismatched pieces together while the varying sizes allow space for everything from the tiniest doodle to a monstrous mural. This is just one of <a href="https://morningchores.com/toy-storage-ideas/" target="_blank">34 quick storage and organization ideas</a> in a round-up by Morning Chores. Maybe the best part of the post is that each idea uses items like shoe-sorters, baskets, and bins that are frequent finds at Goodwill locations so you can save money and organize at the same time. If that's not amazing enough already, Goodwill sells stuff to create jobs so every 23 seconds someone gets a job through the help of Goodwill. That's only possible because of support from people like you!
With an obvious and accessible place for everything, messes will be isolated to make clean-up more manageable. This also teaches kids great organizational skills as they grow which sets them up for success later in life. Now, if you can just get them to pick up each station as they leave, your house will never be cluttered again (A parent can hope, right?). Good luck!