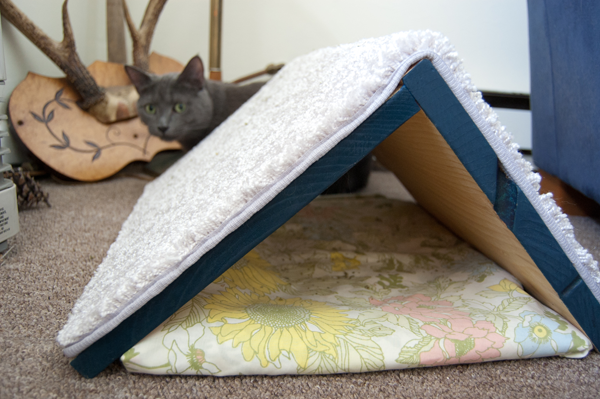 It's common knowledge that cats love small spaces. Put a box down on the floor near a feline, blink your eyes, and when you open them again a furry little body will be smooshed inside (the smaller the space, the more enticing it is). My boys have had a long summer, so I thought it was about time I treat them to a new little hideout. Using things found at Goodwill® plus some scrap wood, wood glue, nails and a staple gun, I made them their very own A-frame.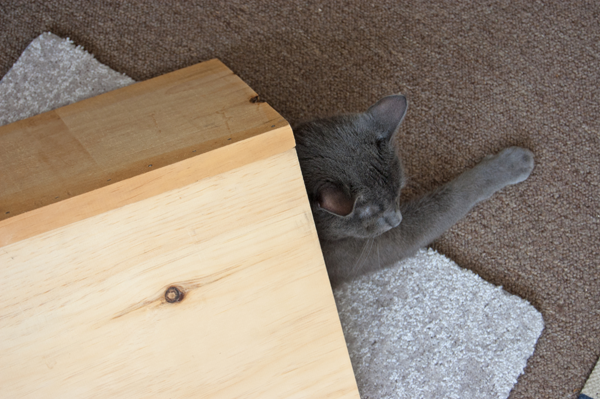 The hardest part about finishing this project for me was waiting until my supplies were available – that is, the cats kept lying on the rug and under frame during each step of the process making it very hard to move on.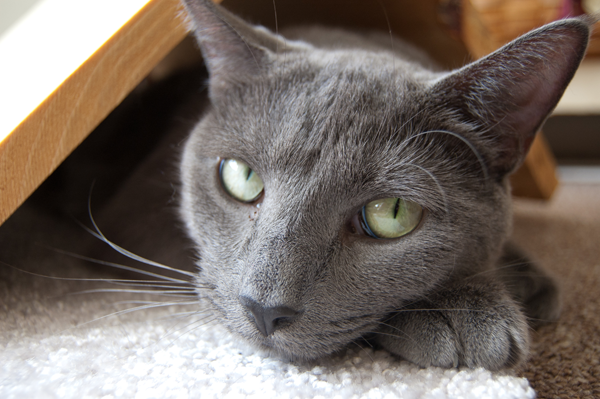 I wanted it to be especially inviting, so the main feature had to be carpet for scratching. I'd cringe to see a brand new piece of carpet getting torn up by kitty claws, so I knew that finding a second-hand throw rug at Goodwill would be my best option. Plus, while there, I could track down a little blanket to stick underneath as a bed! What's that? You think my cats are spoiled? Yeah…you're probably right.
 Here's how to make a fancy feline A-frame of your own: Start with two pieces of scrap wood. Each piece should be half the length of the carpet, and the same width as the carpet. My rug is 18 ½" x 24" so each piece of wood is 18 ½" x 12". Using some wood glue then nails or larger staples, attach the two boards at a right angle. Make sure you allow enough time for the glue to dry before you start wiggling the wood around while hammering.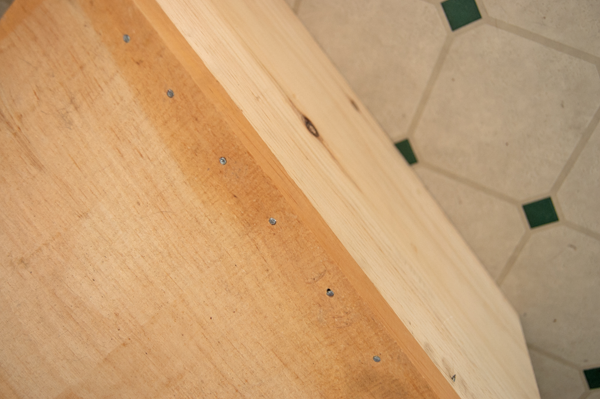 The hardest part is now done! I thought rounded edges might look a little cozier, so I used some sandpaper to soften the wood on the "door frame." Also, if you would like to paint your frame, now's the time!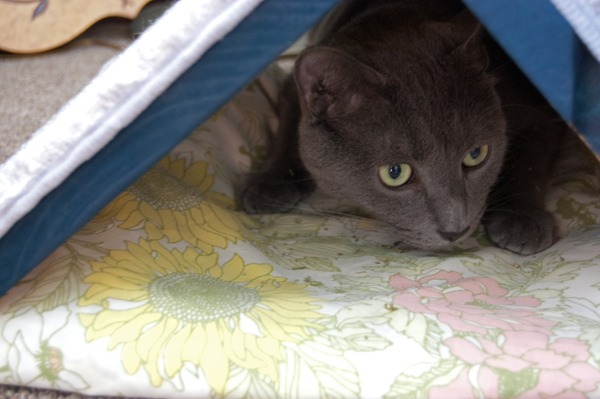 Once you have the frame the way you like it, lay the carpet over your a-frame and staple it in place where you want it! I stapled all the way around the edges every couple of inches, and also added a few staples at the top for security. If you want to make sure your carpet is extra secure, you can use glue to affix it to the wood before stapling it in place.
Now find a place for your new kitty nest, lay a thrifted blanket inside for extra comfort, and get your camera ready – your fur babies will feel right at home in no time. Even if they don't know that you've helped your community by building them this new little nook, you can feel good about it because your dollars have helped Goodwill make a positive impact on your community.
Have fun constructing (and go easy on the catnip)!
xx, Julia