How do you know when you're doing summer right? Simple. When you're spending as much time outside every day as possible and saving money on your summertime essentials. If you live in a place that celebrates all four seasons, there's just something so special about the summer. We shiver through winter dreaming of sunlit afternoons lounging on the lawn, so we owe it to ourselves to take full advantage of these radiant days.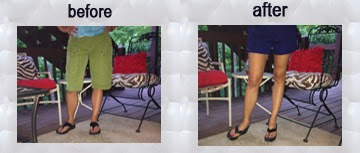 Image from Goodwilltips.blogspot.com
Here at Goodwill®, we would love to help you make the most of your summer. Let's start with attire, shall we? For some women, summer means dressing in less to keep cool, but feeling uncomfortable doing so. Don't feel discouraged, ladies! It isn't just you. The truth is that most women have some insecurities once their summer skin starts to show. But every body type has a flattering fit; it's finding it that can be the challenge. Happily, Goodwill Industries of Michiana (South Bend, IN) has done the work for you – at least where shorts are concerned. Check out their post on finding the best shorts for your body type, and embrace those summertime vibes!
Image from Goodwillakron.org
Now that you've pinned down a summer clothing solution and you're feeling a little more comfortable, let's head outside! Of course, hitting the beach, hiking and biking are all viable options for summer activities, but let's not underestimate the relaxing qualities of gardening in your own backyard! Goodwill Industries of Akron (OH) nailed it with this post that shares four ways to repurpose thrifted items into planters. Our favorite is the bundt-pan-turned-floral-centerpiece. The umbrella post goes right through the center of the pan to hold it in place – Brilliant!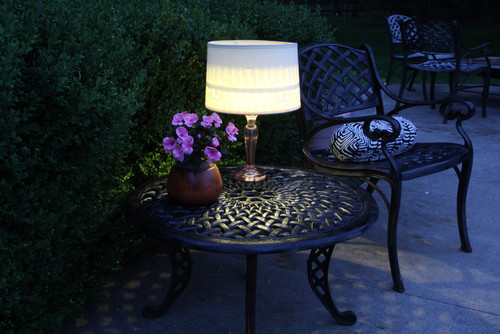 But why step inside after the sun goes down? You don't have to if you follow
this DIY tutorial
from Houzz.com. With a quick trip to your local Goodwill and a hardware store, you can put together a dreamy solar-powered table lamp like this and enjoy summer breezes well into the night.
While you're browsing your local Goodwill in search of the perfect shorts, planters or lamps, keep in mind that it is just one of 162 independent, community-based Goodwill agencies in the United States and Canada that provide employment training, job placement services and other community-based services. Your purchases are making that mission possible! Enjoy saving money and making the most of your summer. We still have more than a month to go!