Before the colder weather settles in, there is much to be done. We'll have to pull our sweaters out from their hibernation, clean up our roosts so we can settle in comfortably, and brighten the indoors with a little fall color to make the most of the season. Getting it all in order may not seem like a worthy chore now, but the inevitable mid-winter cabin fever feels even worse when the house is stiflingly cluttered or completely unchanged from last year's lock-in. So, let's just start autumn with a clean slate, shall we?

Image via goodwillnla.org
First and foremost, we must de-clutter. Twice a year (in the spring and fall), as the seasons change, go through your closet and home to cull what no longer fits into your lifestyle. This is a big job, I know, but breaking it up into bite-sized pieces can really help you digest the amount of tidying you will need to do in order to get your space ready for the months ahead. For anyone in need of a little structure or motivation, this 40 Bags in 40 Days challenge from Goodwill Industries of North Louisiana, Inc. (Shreveport) is perfect. You'll get a fresh space for the new season and since your donation is the beginning of job creation, you'll be giving back to your community, too!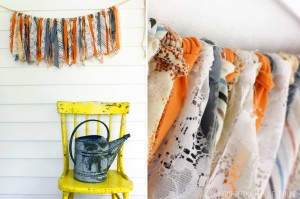 Image via goodwillakron.org
Okay, now that you've pushed out all of the things that were taking up unwelcomed space in your life, it's time to introduce a few new things for the season. You can keep your home feeling fresh by paring down to the basics with your donations, but then layering in a few well-chosen pieces here and there to enhance the mood. This DIY no-sew garland, for example, will help you bring the fall color inside without squandering your savings or using up the earth's precious resources. Since it is upcycled from thrifted pillowcases it isn't as wasteful as buying something new, and by shopping at Goodwill you won't be spending much on your updated décor either! Check out Goodwill Industries of Akron, Inc.'s blog for the details.

Image via goodwillakron.org
And, finally, let's focus on a little something special for YOU. The house will look nice enough after those updates, but a little closet refresh will help you stay excited for the impending weather changes even if you're a summer person at heart. I like this Pinboard from Leah Edwards because it has some great ideas for working your thrift store finds into your existing wardrobe. One tip that I appreciate year round, but find especially helpful during dreary cold months, is to break up like colors with a bright cardigan. After the leaves have fallen, a dark outfit won't help your mood, but dividing it with color will shift any darker elements into basics while the sweater steals the show.
What are you favorite fall preparations? Are you busy like a squirrel stashing goods for the winter or would you rather browse casually around your favorite shops with a pumpkin spice drink in hand?