There's something so beautiful about New York City in the wintertime, with snow dusting the fire escapes with fluffy, sparkling white and lining the streets with a cold weather glow. The reflection of the city's famous lights on the snow makes the experience of being in the center of things even more thrilling and during quieter times of the day people will stop their speed walking and look around to appreciate their surroundings – not something that happens a ton in NYC!
Growing up in the suburbs, though, snow meant something a little different than just a beautiful decoration that enhances the scenery – though snow on houses and trees is a stunning sight as well! But especially when I was younger, it meant snow days from school, helping to shovel the driveway, playing outside and attempting to sled down the non-existent hill in my front yard. The memories I have playing outside with my sisters are treasured, especially now as I look outside at the first snow of the year and see how efficiently NYC cleans its roads and know I'll have to head into work – no snow days here!
Despite the call of warm blankets and hot chocolate and a PJ day on snowy winter days, sometimes we do have to go outside and resume our regular responsibilities. But you can still make sure you're comfortable when you do that! At least where I work, it's an unspoken rule that snowy days means our business casual dress code can turn down another notch – it's important for employees to be comfy and warm, after all.
Here are some of my go-to snow day pieces, that can help bring back the nostalgia of your childhood snow days, while still looking chic to resume your day and head out to work. Plus, none of them need to break the bank when you head to your local Goodwill store to thrift some of these great finds! It's the time of year to give back to your community, and no one does it better than Goodwill. Every purchase you make at your local Goodwill store contributes to jobs and necessary trainings for others in your community – so when you shop, it's a win-win for everyone!
1. A Pair Of Warm Boots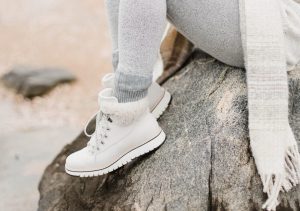 Photo: laurenmcbrideblog.com
If you live somewhere where there's a chance of snow or even just chilly weather, a pair of warm boots can go a long way. Layer in a pair (or two!) of warm, socks and pair with your favorite leggings and an oversized sweater, then you'll be ready to tackle the day!
2. Essential Winter Leggings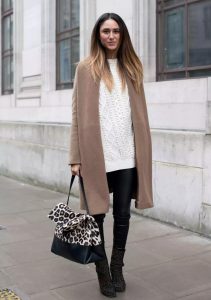 Photo: liveabout.com
To me, leggings can be in style any season for most any occasion! Recently, I've seen an uptick in legging wearers at my office, thanks to the trend of leather-esq leggings. With these leggings, not only are you able to be comfy throughout the day, but you'll be on trend as well. I love the above look for a snow day – except I'd definitely add on another jacket and a scarf! – but the leggings and oversized sweater pull the look together. And they're two easy-to-find pieces at your local Goodwill store!
3. Oversized Sweaters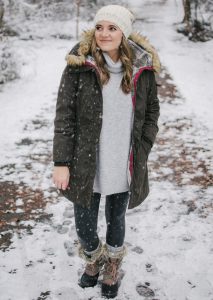 Photo: bylaurenm.com
One of my favorite Goodwill finds was an XL J.Crew cable knit cashmere sweater in a brilliant bright blue. It's the coziest, softest sweater I own and it's perfect to pair with leggings or skinny jeans and warm and bulky snow boots. The next time you're at Goodwill, make sure to stop by the sweater racks, you never know what gems you're going to find! Oh – and did I mention I snagged it for $10?!