What's your favorite holiday tradition? Here's mine: Every Christmas season, my husband and I pick one night to snuggle into the couch with two mugs of hot cocoa, and only the glow of our tree illuminating the scene. We then take turns sharing our happiest holiday memories and pass the night in the warmth of yuletide retrospection. Perhaps one of the most wonderful things about the holiday season, no matter which occasion you celebrate, is that every family has its own unique practices, each adding to the enjoyment of the year. This year, consider starting a new tradition to amplify the spirit of the season! Here are three ideas I love…

Image via Pinterest.com/GoodwillGR
1. DIY Décor: Displaying a project that I've made with my own two hands always satisfies a desire deep within me. That's why I love the idea of creating one new display or ornament every holiday season. Goodwill Industries of Greater Grand Rapids (Grandville, MI) has made brainstorming project ideas easy with this fabulous "'Tis The Goodwill Season" Pinboard. If you like the sound of this new tradition, too, head on over to the Pinboard for a little DIY décor inspiration!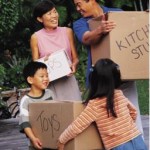 Image via GoodwillNJ.org
2. Giving Back: Combat the greed and selfishness that often pops up during the holiday season by making it a point to give back every December (if not more often). As a family, donate your time and/or money to a local food pantry one weekend, or do what Goodwill Industries of Southern New Jersey and Philadelphia (Maple Shade, NJ) suggests and comb through your closets to donate any unwanted or unused items to Goodwill! Not only will this help you clear space for new holiday gifts, but you will also be giving a neighbor the best Christmas gift of all: a job! On an annual basis, more than 261,000 people in the United States and Canada find employment as a result of Goodwill career services programs that are only possible because of funds raised from the sale of your donations.

Image via TooCheapBlondes.com
3. Thrifting for gifts: While for some people, buying gifts second-hand can be a touchy subject, in my mind, it really depends on the gift you've found as to whether or not the act of thrifting a gift is appropriate. Obviously, you shouldn't just grab something random off of a thrift store shelf and toss it in a gift bag. Make sure you thoughtfully select the perfect item! If there's someone on your list who has a very particular (read: expensive) style, thrifting their favorite brand might be the perfect option for you. Just look at how Pippa of the blog Too Cheap Blondes was able to save around $300 on a brand new leather COACH purse for her friend! For many people, saving money is the name of the game, and thanks to the low prices at Goodwill, Pippa was able to afford something she otherwise probably wouldn't have splurged on for a Christmas gift. I bet her friend wouldn't complain about receiving a second-hand present!
Do you think you'll adopt any of these new traditions? Or, maybe you have even better ideas? We would love to hear your favorite way to celebrate the season. Let us know in the comments what your family does year after year to make the holidays special. I bet you've got some wonderful suggestions!