Sweaters, coats, and jeans in summer? Heck-to-the-yes. What's that old adage– something about finding exactly what you need when you're not looking for it? Well, that's not just true of shopping at you local Goodwill® in general, but also of off-season thrifting.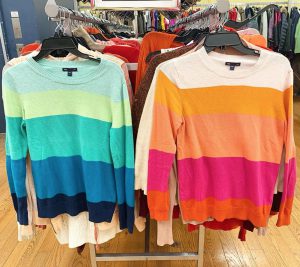 Credit: @GoodwillBoston
Thrift stores are great that way– since most big-box retailers only stock items for the current season. Goodwill is the year-round unicorn of multi-seasonal shopping, which makes it so that it's never a bad time to look ahead and shop outside the forecast. It's easy to forget there's still a great selection to choose from for any type of weather, and that's exactly what might help you find the perfect secondhand coat for next winter in June. Or a flawless swimsuit on the racks in the dead of winter.
I mean, think about it. I know I usually purge items from my closet as I pack it up at the end of the season, so perhaps off-season is actually prime season to thrift! It's also a great way to buy larger sizes ahead of great kid's clothes to pack away for the future.
But don't take it from me– this reseller in Phoenix recently found this fabulous coat on a 113 degree day!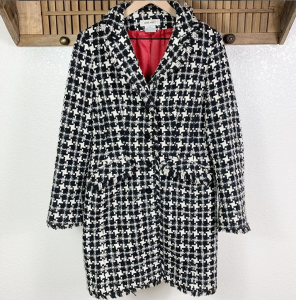 Credit: @TheNerdyNook
Last week as I was browsing the Goodwill racks for a haircut bribe for my oldest (long story– don't ask), I came across an absolutely flawless light gray Talbots Italian cashmere sweater with a cool rolled-boatneck. Sure it was hot outside and I was sweating buckets. It's July, and sweaters aren't on my mind for a million reasons. But all I had to do was step outside the tank tops and short-shorts, and spend a minute picking through the woolens for a wintertime treasure. I also found some great jeans! I can even wear them with my favorite summer necklace once the temperatures start heading south again. SWEET!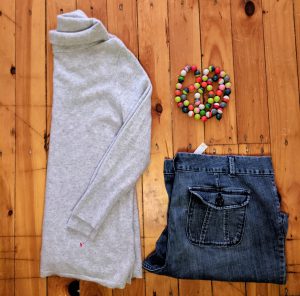 Credit: @allthriftystates
Need some help getting a jump start? Here's a great tutorial video on what to look for and how to make those secondhand sweaters look fabulous!
Nothing feels as warm and fuzzy as helping create a sustainable future for your community and creating jobs in the process. And those warm fuzzies are perfect to wear any time of year.