As summer quickly fades into cooler nights, and the fall colors start to take hold, I've already begun to think about how we're going to start prepping for indoor entertaining again, and — GASP — the holidays.
I have to say, I'm kind of over the autumnal color schemes we tend get force fed during the fall. I've always thought bright colors should be the rule, not just a summertime exception. So you won't see me stocking up on all things mauve and marigold simply because I'm suddenly wearing a sweater. Uh-uh. Life is meant to be lived in vivid color –all the time.
So when I spotted these adorable dessert plates by French artist Nathalie Lete for just $2 each, my heart stopped a bit and I looked around to see if anyone else had seen them. I snatched them up quick for my winter tablescapes. Blue and aqua are my go-to's for decor, and honestly just in life in general. It has a way of keeping my mind in a happy place. It's vibrant, promising, and reminds me of the seaside on clearer, warmer summer days– a much-needed memory on the dreary gray days of winter.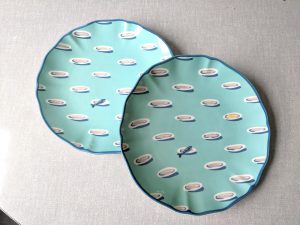 Credit : Jenna Pfueller
It seems there are others out there with my blue tableware obsession, and this one is thoroughly gorgeous. Check out the beautiful Goodwill® thrifted tabletop for TWENTY in shades of blue that Getta put together! I could easily see this is as a thanksgiving setup that still feels just as special–without the faux hay centerpiece or obligatory leafy tablecloth. And those blue water bottles on the table add a serious spark of fancy.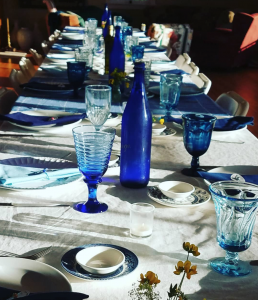 Credit: @goodwill_addiction
Want to make a set of plates a unique color that only you would love? Here's a great how-to from Terry who replicated a sparkly set she saw at a retailer for much more with a set of glass Goodwill plates that were 50% off!
Is vintage your jam? Well, obviously Goodwill is the place for that, too. Check out these gorgeous Goodwill goblets that Holli found in Arizona! The blue is my faaaaavorite! (Also love that background art!)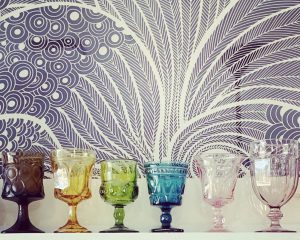 Credit: @decorfusion
So whatever your plans are for the holidays, it's never too early to start your hunt now. And don't be afraid to buck the autumnal colors alongside me! The best part about all of this is that it helps the environment, your pocketbook, and your community, by helping to create jobs. Now that's something we can all toast to!