You know that expression "A Sunday well spent brings a week of content"? One could just as easily swap out "Sunday" for "August" and "week" for "school year" and it would still be true. With the right preparation, the back to school season can be a seamless transition from vacation to vocation with minimal tears. Here's how…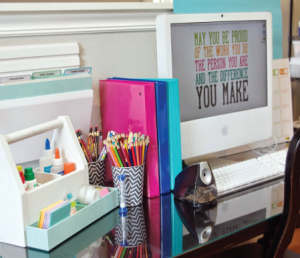 Image via SimplyOrganized.me
Let's start with the most important aspect of school preparation: the supplies. No doubt, the parents of any grade-school aged child will receive a comprehensive list of items that they'll need to buy in order to be successful in the upcoming year. Of course this is hugely important, but success truly does start at home so crafting an environment for children to study in will help them to feel confident, prepared, and supported. That's why I love this homework station that Samantha created and shared over on her blog Simply Organized. She's got everything from an atlas to a hole-punch – all of which can be found at a great price at Goodwill – neatly tucked in place, ready to assist in the completion of any assignment. Now, how long do you think it'll stay this tidy? With kids involved, I'd give it a week.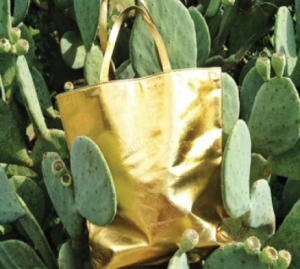 Image via Shoestringmag.com
Many of those well-stocked supplies will need to make the trek to and from school every day. And while a sturdy backpack will make any elementary school student happy if it just has the right character on it, high schoolers are a little harder to please. Goodwill's selection is so broad, though, that everyone, even a glamor gal, will be able to find something to tote books in. This oversized gold purse was shared on Austin Goodwill (TX)'s Festival Style pinboard, but since boho and bold looks are tres chic right now, it might be just the thing to combat those back-to-school-blues. The size is right and the price is right. How can you go wrong?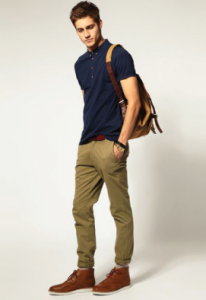 Image via Fancy.com
Because boys tend not to be as interested in back to school shopping as girls are, if you're the parent of a teenaged boy you may find yourself working on an entire shopping list for someone with taste very different than your own. That's where Goodwill of Chattanooga (TN)'s Back To School pinboard comes in handy! Outfit inspiration and general school year starting tips fill up this little corner of the internet and are waiting to guide you in the right direction. Check it out if you need some guidance!
Even after the school years have ended, Goodwill® believes in lifelong learning. Sometimes life may throw a curveball and a change of pace is what is necessary to get things back on track. In that scenario, Goodwill provides job preparation, skills training, education assistance and support services to more than nine million people a year who are facing challenges to finding employment. It may not be a typical back to school experience, but Goodwill's opportunities help so many people find their way down a new life path that it is changing the world for the better in the same way that a great educational foundation does. So once you've got your back to school prep taken care of, you can enjoy the rest of the summer knowing that you helped to enrich the lives of your own children and so many others within your community.