Have you ever had the Goodwill moment? That second of heart fluttering and disbelief when you pick something up off the rack and think it's too good to be true? That it must have been put there mistake? That it must have been priced like that by mistake? That it's too perfect for you, exactly what you were looking for and it's stocked in your size? Maybe you found a piece from your favorite designer, or a designer you see frequently trending in magazines but never thought you could afford. Maybe you're looking for a special occasion outfit and somehow, it pretty much just landed in your lap. Is it fate? Or, a Goodwill moment?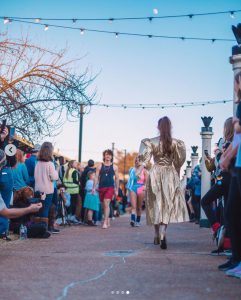 Photo: @savvyou
As we approach the new year, I plan on focusing on luck. My strategy is to visualize what I want and to do whatever I can to make it happen. I have some personal and professional goals for the New Year, and one of them is to give back more to people. While I figure out where to volunteer in my area, I know for sure that one way to help my community is to donate and shop at my local Goodwill store. Did you know that there are more than 35 million people who are helped by Goodwill worldwide, who are provided with job training and even employment at different Goodwill stores? This is all funded through donations and purchases at local stores. Every little bit counts.
My biggest Goodwill moment this year was stumbling across a new-with-tags Prada blouse. In my size! It was such an exciting moment and the best find I made all year. It was one of those days where I went into Goodwill not necessarily looking for anything specific, but was walking around and browsing. That's what I found – a brand I'd always looked up to, and am now a proud owner of!
This was just one find among many this year that added to my "Italian designer" collection. In one year I've managed to come across brands like Prada, Missoni and Gucci, and somehow I've managed to fit into all of them – and purchase them at insanely affordable prices, thanks Goodwill! You could say I've had a lot of great Goodwill moments this year, or maybe I just go to a Goodwill store with a lot of generous donors!
But you don't need to be designer-crazy to have a Goodwill moment. You could simply stumble upon the dress of your dreams that's in your size for just a fraction of the cost you would have paid at retail value. Or you could have found the perfect pair of heels to celebrate your graduation day. Or, maybe you find an outfit that makes you feel confident, beautiful and good about yourself. Every time you go into Goodwill, the opportunities are endless, for both you and the community you are benefiting by choosing to shop there. And you never know what you're going to find!