In the Northeast, this spring has melted into summer. Without a change in forecast, April showers have simply turned into May, June and July puddles. As we get deeper into the summer months beach days are seeming less likely and instead it may be time to focus on how to dress for hot, humid and rainy days ahead.
Personally, I have trouble walking around in the rain without being covered up. Despite a ninety-degree stormy day, I'll likely wear a pair of pants or jeans with a long-sleeve rain jacket. There's no way I need to do this for warmth, but I'll feel better and more comfortable than if I had raindrops and dirty puddles splashed from the street onto my legs.
I can only hope that the sky clears up for the rest of the summer and the sun comes out so we can enjoy the outdoors, but in the meantime checkout this guide to dressing for what seems like a never-ending rainy season. And consider donating and shopping for well-loved clothes at your local Goodwill®, which is a habit that will contribute less waste to the environment, hopefully bettering the Earth and your wallet at the same time.
Rainy Season Guide To Dressing For Rainy Summer Days
1. Light-Weight Rain Booties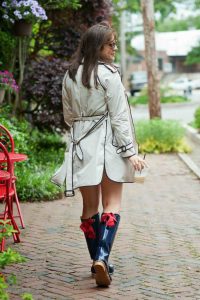 Photo: My Style Vita
When I think summertime footwear, I get excited about the season of open-toed mules, sandals and flip flops. It's pedicure season, after all. But living in New York City, it's inevitable that walking to and from work in sandals on a rainy day that I'll step in a puddle formed in sidewalk or street cracks and my feet will not only be gross and uncomfortably wet for the rest of the day, but there's also a greater chance of slipping out of my shoes. The solve for this? Short and light-weight rain booties. Whether you find a pair in a sleek solid color that matches everything or in a bright and patterned pair that you wear for fun, knowing you'll change your shoes when you get to the office, you can't go wrong with investing in a pair of these.
2. Barely-There Rain Jacket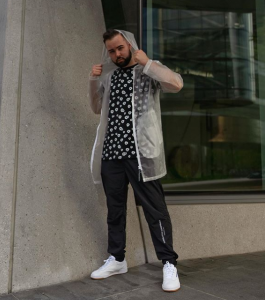 Photo: @nickgetek
It's one of the worst feelings in the world to get caught in a storm you didn't know was coming. Umbrellas can sometimes be bulky, but there are many rain jacket options that specialize in being light-weight and easy to carry. Keep one at your office or in a big purse to avoid getting caught in the rain without being prepared!
3. Stylish Umbrella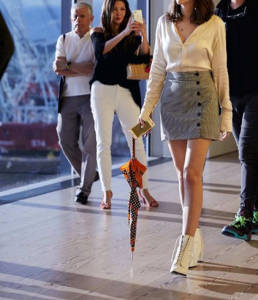 Photo: @quinnshephardofficial
One of the many reason I love browsing and shopping at my local Goodwill are the unique and antique pieces you'll find there. One way to dress up a rainy day outfit and stand out from a crowd of black Totes umbrellas, is to seek out a vintage or simply unique and fun umbrella. Look for one with a long handle instead of the more modern retractable styles, and bonus points if it has a fun pattern and texture. I love the look of the umbrella above, which is being carried as an accessory, as if it were a purse. Travel light and dry with a unique find like the above.