It's never too early to start decorating for a new season — especially for one as short as spooky season! It can take some time to get your home looking like the perfect balance of scary and stylish, so it's no surprise that, for many, decorating has already begun.
Fall colors and Halloween-themed pumpkins come out of storage, fall-colored book stacks begin to appear on tables and shelves alongside gourds and witchy signage. It's the unofficial start of the season, kicking off a celebration of all things Halloween — from candy to and mystical creatures.
Home décor has become more important in the last few months, as people have been forced to spend more and more time indoors. Even if this year's Halloween looks a bit different — socially distanced gatherings and taking safety precautions while trick-or-treating instead of what may have normally been an indoor party — creating a fun spooky Halloween ambiance can have its own benefits for you and your family.
According to a study in the Journal of Environmental Psychology, putting up decorations early for a favorite holiday can make people happier. By decorating early, you begin to believe the holiday isn't that far away, and you can start a countdown to your favorite holiday!
Plus, if you want to go all-out on spooky Halloween decorations this year, you won't need to break the bank. By shopping for decorations or DIY craft materials second hand at Goodwill, you'll find what you need for a mere fraction of the price you'd pay at another retailer. And, at the same time, you'll be paying tribute to the environment by diverting these gently used goods from a landfill, instead putting them in the spotlight on your walls and mantle.
Below are a few Halloween décor ideas created by Goodwill shoppers that will be sure to delight any ghost or ghoul this year.
Witchy Welcome Wall
Photo: @mozarkivist
There's nothing like a nice reminder of the Halloween season every time you walk through your front door. These thrifted entryway decorations are perfect for entering any witch or wizard into your home and will keep your family in the holiday spirit. You can repurpose an umbrella holder to hold witches' brooms, both items easily findable at your local Goodwill.
Creepy Corners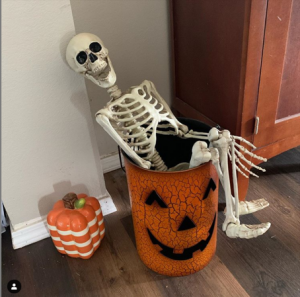 Photo: @mozarkivist
It can be a scary surprise to walk into the kitchen for a midnight snack and find a gleeful skeleton in the corner! Set up a few of these startling decorations throughout the house to add some hocus pocus to every room.
Custom Cemetery DIY
[BEFORE]                                                          [AFTER]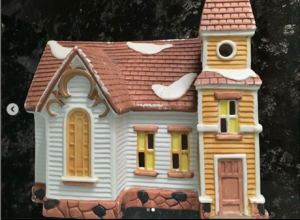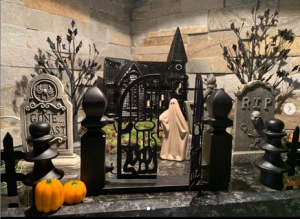 Photo: @tennnisgirl
I LOVED finding the creativity this Goodwill shopper had. She found the church on the left for a $3 steal at her local Goodwill and, with a little bit of black paint, transformed it into the creepy mausoleum that's now part of the DIY cemetery stationed behind her kitchen sink. A spooktacularly wallet-friendly idea for an eye-catching and elaborate decoration!