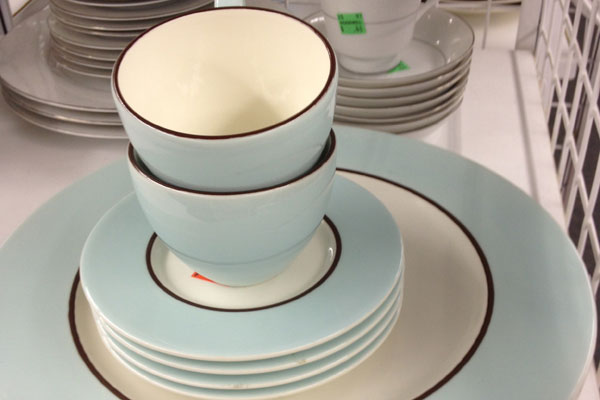 Happy summer everyone!  For lots of us, summertime means weddings. Being a June bride myself, I often wondered why so many of us choose such a hot time of year to get hitched. I remember being so hot at my outdoor ceremony that I felt bad for the guests and honestly couldn't tell if I was sweating profusely or crying — or both.
(Answer: Both, but mostly epic sweating.)
A few days after my sixth anniversary last month (thank you, thank you) I realized I hadn't been out thrifting for a while so I thought I'd check out the nearest Goodwill® to me here in Northeast DC. It's one of my favorites and always offers up happy little surprises.
Little did I know there was a little anniversary surprise in store for me! You see, when I registered for dishes all those years ago, I wanted dishes I'd actually use and not just look at. The ones I decided on were simple, adorable and apparently (unbeknownst to me) about to be discontinued. My lovely mother-in-law-to-be at the time raced from outlet to outlet looking for any sign of my poor discontinued dishes before my wedding, only to find not a whole lot of them left. We've been eating off our cobbled together collection ever since.
Fast forward six years, three addresses and a multitude of meals later– the set is looking a bit chipped up. That's why I nearly had a fit when I spotted this pile of my discontinued wedding dishes NEW WITH THE TAGS for sale on an endcap at the Goodwill.  Four dinner plates, four tea saucers and two teacups. I texted my husband a photo in disbelief and stared for a minute to make sure it was real. I'm sure others browsing were wondering why the girl in housewares appeared to have won the lottery — especially because each piece was less than $2. I couldn't get those dishes in my basket quick enough!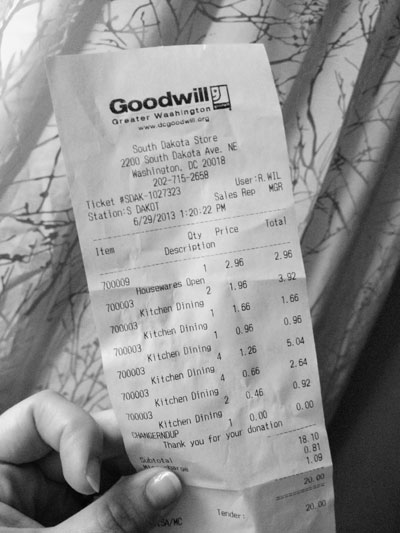 So thank you, Goodwill, for always being full of surprises– and making me a happy bride even six years later!