By Felicia Czochanski Bisaro
Graduation is a major milestone moment in our lives, bringing one chapter to a close and starting of another. It's a day full of excitement, joy, and a sense of accomplishment. Years of studying have come to an end, and it is finally time to celebrate – you did it! Graduation should be stress-free so you can focus on all you've achieved, and so should selecting the perfect outfit to wear for the big day. With an eye towards sustainability and a little bit of creativity, you'll be able to find a stylish, budget-friendly outfit that feels like you if you shop second hand at Goodwill.
I've found shopping second-hand for major life event attire to be so rewarding. Especially when it comes to a graduation outfit, purchasing that at Goodwill brings things full circle. Through donations and purchases made at Goodwill, the organization is able to fund career navigation and skills training to people in local communities. Empowering people through learning is an incredible way to positively impact someone's life, and so supporting Goodwill around graduation time is a wonderful way to give back as you start the next chapter of your life.
I'm lucky to have so many close family and friends celebrating academic milestones this year! They understood the assignment when it came to finding a comfortable, trendy graduation outfit while shopping second hand. Take a look at their outfits for inspiration as you think about what to wear on your own graduation day.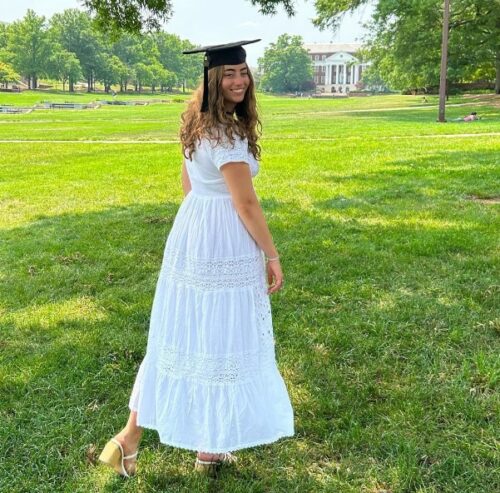 Photo: @cristinaaluciaa
The Classic White Dress
Much like a bride wearing a white dress to her wedding, wearing a white dress for graduation symbolizes many things, including new beginnings. Regardless of the color of your graduation robe, a white dress will always match, making it a popular option for many women to wear for the walk across the stage to receive their diploma.
For her graduation, my sister Cristina opted for a boho chic take on the classic white dress. The flowy white maxi dress with eyelet detail and a flair out hem is so her personality and helped her show off her tan for her graduation day – alluding to the next part of her journey, moving across the country to California!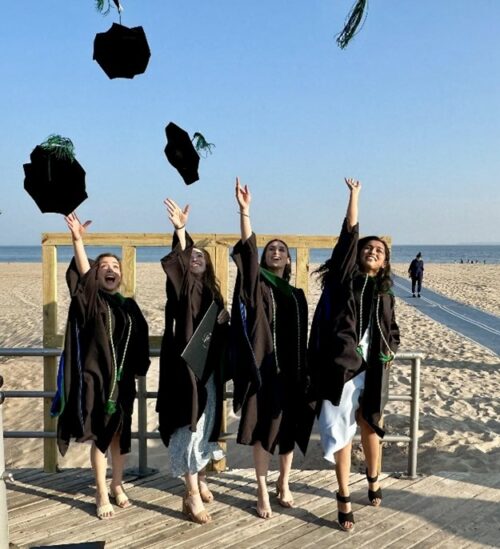 Photo: @nina.shiv
Subtle Patterns and Comfortable Heels
A white dress is the perfect look for some graduates; however, others might opt for more of a subtle pattern – like this light blue floral pattern peeking out of the bottom of one graduation robe in this picture. The same thing goes for heels. Deciding on what shoes to wear might be even more important, because not only are they usually the only visible accessory as you walk across the stage, but they'll also need to be comfortable enough to be on your feet in line all afternoon. The shoe options in this photo, full of delighted medical school graduates, are all smart choices – low heels, chunky heels, and espadrilles with thick straps. Not to mention, they're all the perfect fit for each individual outfit!
Found a graduation outfit you love at Goodwill? Tag us on Instagram @goodwillintl for a chance to be featured in a future blog!