By Felicia Czochanski
Everyone celebrates Valentine's Day differently. For many, the holiday is a time to show your love to the special person in your life. For new couples, it can bring pressure to show how well you know your partner. For those who have been together for a while, it can be a reminder of the importance of taking the time for a special date night. However you decide to celebrate this year, whether you're in a relationship or plan to go out with a group of friends, what you wear can set the celebration vibe for the night.
Especially when it comes to a themed look, if you have limited closet space you'll want to think about how often you might be able to re-wear different parts of your look, and how much money you'll want to spend on it. If part of your Valentine's Day celebration includes exchanging gifts with your loved ones, you might want to save on your outfit if possible. One way to do this is by shopping second-hand for the romantic look of your dreams at Goodwill. Each year, Goodwill organizations receive more than 107 million donations throughout the U.S. and Canada. Can you imagine how many treasures there are to find with so many donated items?
Thrift shopping with a specific vibe in mind can save you money, and it can also make your outfit extra unique and creative. Take a look at some of the outfit inspiration from real Goodwill shoppers below and see if they spark your chosen vibe for Valentine's Day this year!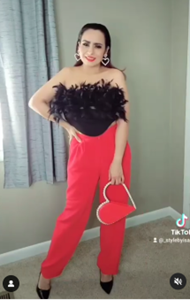 Photo: @_.soyisa._
Night Out
Pair a themed-look challenge with a little bit of feathers and you've got yourself a killer look that will keep all eyes on you all night long. This fun look exudes confidence and is something you can wear from dinner to the club. I love the heart accessory details – the silver crystal earrings and the heart bag. Don't underestimate the power of accessories and textures when putting together your look and don't be afraid to tap into some trendy materials like feathers either!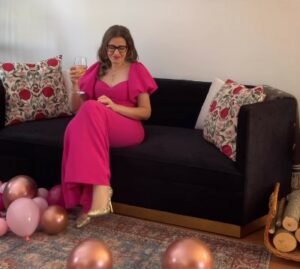 Photo: @wanttocraft
Rose Gold Chic
You can't go wrong with this gorgeous combination! Puff sleeves and fuchsia pink – trendily known as 'Barbie' pink – are so in style right now. This dress was an amazing find at a Goodwill store in Alberta, Canada! Pairing pretty pops of pink with sequined accessories, like these point-toe stiletto heels is a chic way to set a fun and flirty vibe for the night.
Photo: @ssurraecontent
Pretty in Pink
Sometimes tapping into your own version of romance means not overthinking it. This pretty pink satin dress and dewy makeup look shouts all things feminine and ballet-core. The simple silver necklace and earrings, along with her hair tied back into a bun sets a beautiful, classic tone for a romantic night. Plus, there's no better accessory than a gorgeous bouquet of roses!