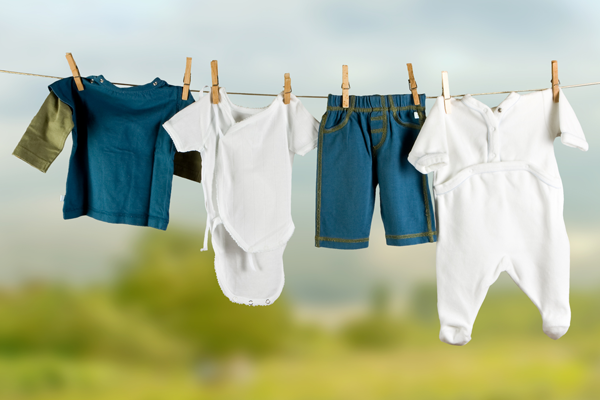 There's a little news to share with all of you this month– there's a new little thrifter on the way! I have a whole new section of the thrift store to delve into!
If there's one thing you learn from others really quickly when you find out you're expecting, it's that you're going to need a whole lot of stuff for the little one.  So my first trip to the thrift store after getting the news, I made a point to start looking early.
Off to Goodwill® I went, having done some online research first into some items that might eventually need purchasing for me and the little one.
First stop, maternity section. HELLO ELASTIC! After years of carelessly neglecting this glorious elastic-waisted rack of wonder, or occasionally accidentally purchasing misplaced maternity pieces (that frighteningly fit all too well), I now have a reason other than too much pie to purposefully scour these racks.
Jeans, check. Dress, check.
Next stop, books. I have a lot to learn here, guys, so this is a really important stop for me to make. Anyone who knows my track record with plants will attest to that. And all I need to know is right there waiting for me in the donated books section. I grab a stack of helpful-looking paperbacks with a smile.
Mama-to-be knowledge, check!
Thinking I'm done here, I headed to the checkout counter, excited for my haul. But the mama-to-be gods had one more gift to give.
I noticed a box with photos on it of a smiling parents proudly toting their babies in a cute little carrier. Then I recognized it as one I'd seen while doing my initial baby gear research — a new Ergobaby carrier, still in the box. And it was $2.96! I couldn't get it in my cart fast enough. I'm sure this will go down as one of my best finds ever, seeing as they usually sell for over $100!
So thank you, Goodwill, for making this mom-to-be a whole lot cuter, more knowledgeable and even MORE grateful for thrift stores than ever before! Maybe this mom thing won't be so hard after all.