Paris Couture Week is in full swing, and the coveted front row seats have been studded with some of the world's favorite celebrities. Nick Jonas and Priyanka Chopra were found sitting front-row at the Dior Couture show this year, with the likes of Celine Dion and Sarah Jessica Parker down a few seats. But couture style isn't just for celebrities. In fact, some of the trends from this year's couture runway are more accessible and affordable than one might think.
Traditionally, the looks seen on a couture runway are made-to-order. You have to call or order an ensemble and rarely know the price beforehand – but you can likely expect to pay somewhere over a thousand per item. Few people are able to shop this way however, which is where adapting these trends in a creative and affordable way comes in.
Local Goodwill organizations are home to tons of donated treasures. Some well-loved and some with tags still on them. Not only can you find totally in-style attire at your Goodwill store, but you can feel good about purchasing from there because you know the proceeds will go straight to helping others in your community create better lives for themselves through job training and employment opportunities. Plus, you'll head home with some unique pieces that will look inspired by the Paris Couture runways.
Here are three looks from this year's Paris Couture Week that can easily be found at your local Goodwill store:
1. Puff Sleeves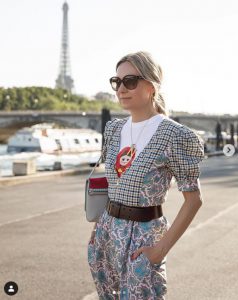 Photo: @tatamuc
The puffy sleeve trend has been all the rage this summer, and the style is only going to get stronger as we get into fall. As people start cleaning out their closets for the next season, head to your local Goodwill and search the racks for some blouses and dresses with cinched and puffed sleeves. You can style them in a unique way, like in the photo above, where she layers a t-shirt under the dress and cinches the waist with a chunky belt. The most important thing is to express yourself and feel comfortable and this trend makes both those things easy to achieve.
2. Oversized Pants Suit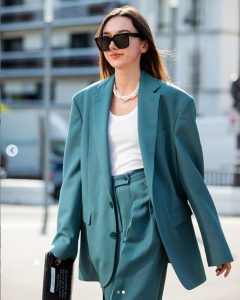 Photo: @stylesightworldwide
Everytime I walk into Goodwill I'm floored by the amount of pantsuits and blazers I find on the racks. Goodwill usually has a separate section for these items, making them easy to find. I've found some incredible designer pantsuits from Goodwill in really fun colors (for under $20 for the set). You can't beat that! As we head into chilly nights and fall weather, look for a color that speaks to you. I love the way the outfit above looks, with a fitted t-shirt and oversized blazer and pants. If you're feeling extra creative, mix and match the colors!
3. Military Jacket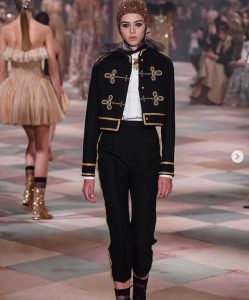 Photo: @hiveblog
I can't remember a time when military-inspired jackets weren't in style. From Blair's infamous military-inspired outfits on Gossip Girl to the Paris Couture Runways this summer, it seems to be a timeless trend that looks flattering on everyone. I especially love the cut of the jacket above, right at the model's waist. If you find a jacket this length on you that would be the most slimming of looks. But don't worry if you find one that's slightly longer, you could always have it tailored or even take it in yourself.