As the corner stores have long ago announced by the overnight appearance of shelves full of heart shaped boxes of chocolates, greeting cards and oversized stuffed animals, Valentine's Day is upon us yet again. Whether or not you have plans to celebrate with a special someone, group of friends or spend the day showering yourself in self love, we're sharing some easy to put together outfits to wear for any occasion. The best part? These outfits, which you can find at your local Goodwill® store, will make you feel and look great, while also helping Goodwill organizations strengthen your community by using forward-thinking family financial stability practices, while you focus on strengthening your relationship with the special people in your life, including yourself.
This year especially, with February 14th falling on a Friday, there are a wide variety of celebratory activities to profess or celebrate love. Below, the outfit examples range from day-to-night looks, for those of us who will likely be going out to celebrate straight from work, to a galentine's day girl's night out, the perfect pink outfit to wear with your closest friends.
There are many different types of love in the world that are worthy of celebration, but while you choose your Valentine's Day activity, if you decide to opt into the holiday that is, make sure you're also taking self love into account. Choose your outfit based on what you feel good in, not what you think someone else might like. The better you feel about yourself, the better you'll feel about the relationships in your life. The more love you show yourself, the more love you'll have to give to others.
1. Dinner Date Night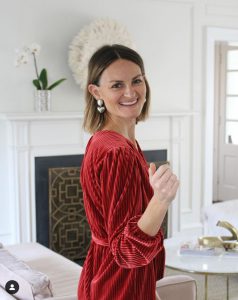 Photo: @thestyledujour
Valentine's Day can be a time to bond with your significant other, while at the same time being an excuse to treat yourselves to some great food. It's also the perfect reason to get dressed up in an outfit that you might not wear everyday. I love the texture and color of the dress in the photo above, and the way she pairs it with statement jewelry. You can find both these outfit essentials at Goodwill, for less than half their retail price, saving you more money to treat your beau to a nice night out.
2. Galentine's Day Date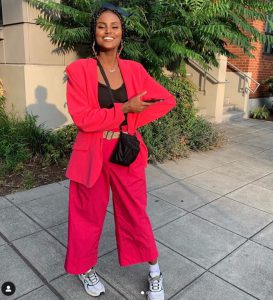 Photo: @blackish.gold
Some of my favorite February 14th memories happened on years when I was single, and celebrating with a group of friends. I think the outfit above – and the glowing smile on her face – is the perfect embodiment of this type of celebration. Celebrate yourself for who you are, while also showing your appreciation for your girl gang, who's always there for you no matter what. I love that she found this power lady pantsuit at Goodwill and made it her own with a pair of chunky sneakers and matchy accessories.
3. Work To Date Look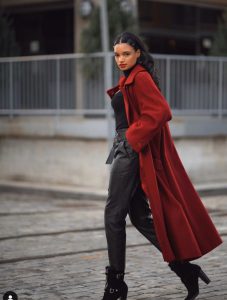 Photo: @itsdaddylonglegs
With Valentine's Day falling on Friday this year, I'm predicting that many of us will be running straight from work to our plans for the evening. If your office dress code doesn't really encourage bright date-night looks, you can still add a nod to the day by adding pops of colors in creative ways. I love the look of this outfit, the texture of her pants, shoes and top all in different shades of black, with a bright pop of red in her jacket and lipstick. Make the most of accessories to dress up your work outfit to go from day to night, and take advantage of your local Goodwill store which might even separate the racks by color!
4. Romantic Night In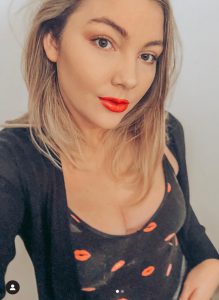 Photo: @erinch1107
You don't have to get dressed up to feel good! Some of the best relationships – and inevitably what happens when you've been together with someone for a while – are those where you're most comfortable spending time with each other from the comfort of your couch. You can spend the night in to celebrate the day, having a night without the distractions of other people, leaving you the space to bond in your own relationship. Play up fun patterns like the top in the photo below (which she found at Goodwill!) to get festive for the night, and of course, a pop of a red lip doesn't hurt either!