I think we can all agree that 2020 has been a difficult year — especially for those of us who are not good with change… and a lot of it… all at once! This has been a year full of unprecedented circumstances, we've all probably spent a lot more time at home than ever before, and we've all probably had to deal with loss in some way as well.
As we approach the end of 2020 and, specifically, the holidays, we can start to think about what really matters most to us in the world. For me, it's safely spending time with my family and friends — whether its on a brisk outdoor walk or a Zoom chat — and using some of my newfound free time to do what I can to make the holidays extra special for them this year. If there's one thing we all could use, it's some good old-fashioned holiday cheer!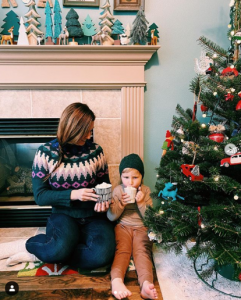 Photo: @alexmoniquelauren
That being said, it's important for us to think about how and where we're shopping for special gifts this holiday season. In addition to being the year of the pandemic, 2020 has been a pivotal year when it comes to environmental issues, and it has been a difficult year for many when it comes to job stability and having the ability to save some extra cash. If you're nodding your head as you read this, then shopping second-hand for holiday gifts just might be the right solution for you.
When it comes to the environment, fashion waste stemming from fast-fashion brands that capitalize on short-lived trends is a major issue that is causing people to pivot to a more responsible retail era. In a 2019 survey conducted by Accenture, insights found that gifting second-hand — and especially vintage styles — is becoming a fashionable trend, and almost 50 percent of survey participants responded that they would consider gifting second-hand. And closer to 60 percent of people would welcome gifts of this type themselves!
Gifting second-hand is so much better for the environment than shopping at traditional retail stores because it redirects gently used clothes and other goods from the landfill to your closet, where they can be put to great use. Want to get a sense of the impact you can make by shopping second-hand at Goodwill? In 2019 alone, Goodwill was able to recover the value of more than 4.5 billion pounds of clothing and textiles by giving them a second life through their stores. That's an incredible amount of goods diverted into second-hand stores — which also shows just how many special items you might be able to find in that mix, including awesome books like the thrifted stack below!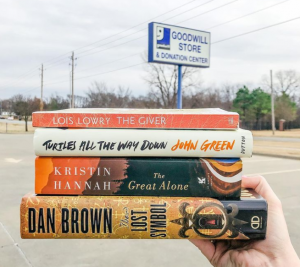 Photo: @simplylovebooks_
Even when we're on a budget, it can feel important to give what we can to those we love. When I shop second-hand at Goodwill, I feel confident that I can do that just given some of the best finds I've been able to thrift — like the 100 percent cashmere baby blue cable knit J.Crew sweater I got my mom for Christmas a few years ago at a $10 price point! Or the new-with-tags Prada blouse I stumbled upon for $15 which made a perfect holiday outfit complete. I love shopping at Goodwill because your money can go further when you shop sustainably at a store where your purchases actually give back to supporting the local community. Not only that, but when you shop for second-hand gifts at Goodwill, you're able to gift more within your budget.
December 18th is National Re-Gifting Day! What amazing gifts will you find at Goodwill this year? Be sure to tag us in photos of your hauls on Instagram for a chance to be featured in a future blog.